Morgan Stanley (MS) Short-term Price Action At the Crossroad
Morgan Stanley $MS shares are trading in a short-term range, and is at the crossroad. BUT the overall price structure is still bearish, so I would lean towards anticipating the bearish outcome.
MS Daily Chart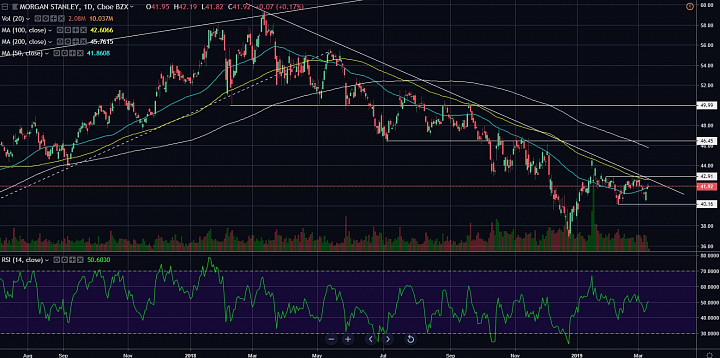 (click to enlarge)
Mini-Range:
- Since February, price has been stuck in a mini-range between roughly $40 and $43.
- Note that this came after a sharp V-shape rebound. However, this rebound did NOT make a higher high, so the overall structure is still bearish (still lower highs and lower lows on the chart).
- Furthermore, price is still trading under the 200-day simple moving average (SMA), and under a falling trendline resistance.
Bearish Breakout Scenario:
- Because of the prevailing downtrend, I think the pressure is still on the $40 level. If price returns down to $40, I would anticipate a break. And if price indeed breaks below $40, I would anticipate downside to at least the 2018 low around $37, with a strong possibility of pushing lower.
- As we can see on the weekly chart, the next pivot could be around $36.
- Below that there are pivots around $33.60 down to $31.15.
- As price gets to these low 30s, there will also be a rising trendline that might act as support.
- Furthermore, there would be more chances of a bullish divergence to develop on the weekly chart, which would be a strong sign of a pending rebounding.
Bullish Scenario:
- Now, if price breaks above $43, I would look for a rally towards$45 and possibly $46.50. If price comes up here, I would reconsider the bearish outlook and consider MS to have shifted sideways.
- At that point, I would limit any pending bearish outlook to the $37 low, with $40 as a potential support anchor as well.
- However, I would not turn bullish on MS yet, until more price action convinces me.
I am not interested in this name right now, but if I were, I would wait for further downside towards the low 30s before considering a buy.
MS Weekly Chart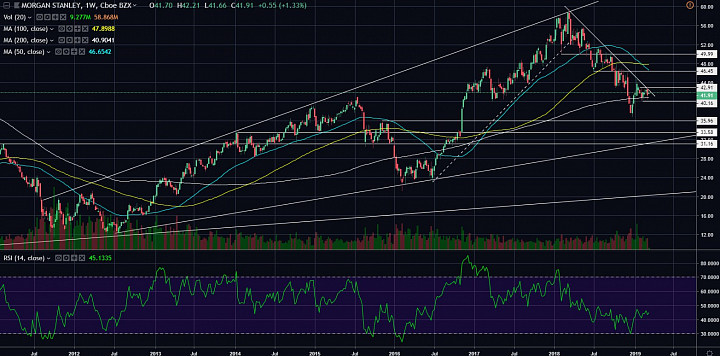 (click to enlarge)