Amazon (AMZN) - Key Support Around $1300
The market closed the Friday before Christmas with capitulation style selling, with strong volume. All indices were down, and there was proverbial blood was on street. Amazon $AMZN for example fell sharply from the start of the week around $1570 and closed the week around 1377. There might still be some more selling ahead, but the $1300 should provide support after the recent multi-month correction.
AMZN Daily Chart

(click to enlarge)
Key Support:
- As price dips sharply, AMZN will be heading to a common support area around $1300.
- I think there will be upside from $1300 towards $1600 within the context of a market in consolidation.
- If we see price stabilize around $1300, and catch a bullish divergence between price and the RSI, then we can anticipate this upside at least towards the $1500 area if not to retest the $1640 support/resistance pivot.
- On the weekly chart below we can see that price is pulling back to the 100-week simple moving average (SMA).
- The RSI has not touched 30 yet. It has not gotten down there since before the global financial crisis in 2008.
- Essentially Amazon is finally in a significant consolidation after an almost 10-year bull run.
- Given this perspective, we should not be surprised if price simply moves sideways in 2019.
- Looking at the price charts, we can anticipate this sideways action to find a bottom around $1300.
- If price does not hold above $1280, we should prepare for $1000, which would be a pullback to the 200-week simple moving average (SMA) and a psychological level.
- For now, let's focus on the level right in front of us - $1300.

AMZN Weekly Chart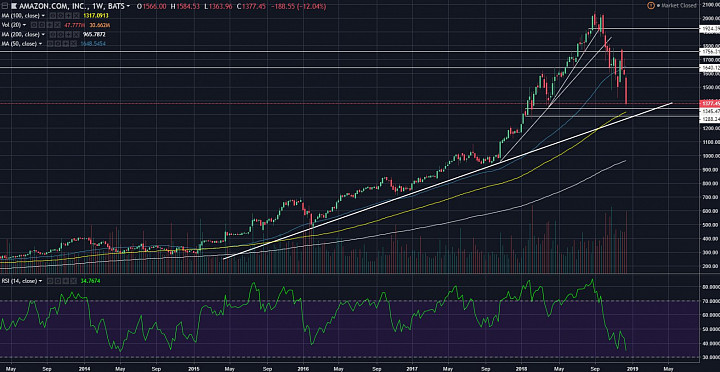 (click to enlarge)
Disclosure: I have tentative buy limit orders at $1345 and $1305, with stops below $1280 and target of $1500 and $1600.