USD/JPY Reaches Our Target of 111; Wait for Next Signal
A couple weeks ago, we noted that $USDJPY looked like it was going to swing towards 111, the middle of the moving average cluster (200, 100, and 50-day SMAs). Indeed, this scenario has materialized, and our target has been reached.
USD/JPY - Bullish Engulfer Suggests Short-term Target of 111
USD/JPY Daily Chart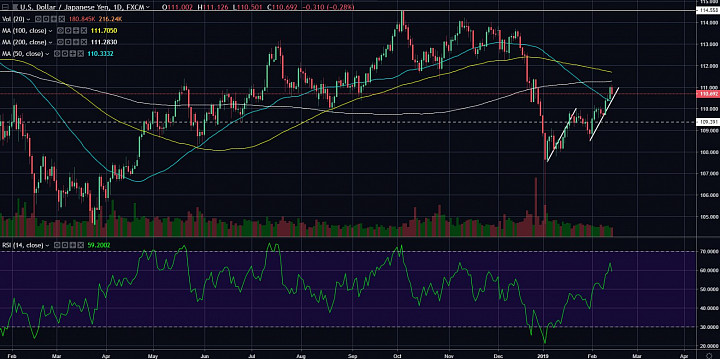 (click to enlarge)
My Strategy:
- I think there is still a chance USD/JPY will push to 112.
- I would would have trimmed 1/3 to 1/2 of the entire position to take profit.
- Then I would let the rest run, with a target of 112 and a trailing stop at 109.30.
- It might be simpler to just exit at 111 and wait for the next signal. Either way, we should probably be taking profit at 111 because the moving average cluster might act as resistance.
- Note that USD/JPY is just above the middle of a consolidation range. There is not strong directional signals here, and price action is not telling us much.
- With that in mind, my opinion is that it would be prudent to take the certain gains if you have any.