AT&T (T) in a Key Breakout
Share price of AT&T fell this week after a couple weeks of consolidation just above 38.00. Last time, we observed a bounce off of 38.00 and some key support factors including a rising trendline. However, we noted that the market is neutral at best, and T is on a the bearish leg, so we limited the bullish outlook. Indeed, price didn't even pullback before falling and breaking the support factors around 38.

AT&T (T) Daily Chart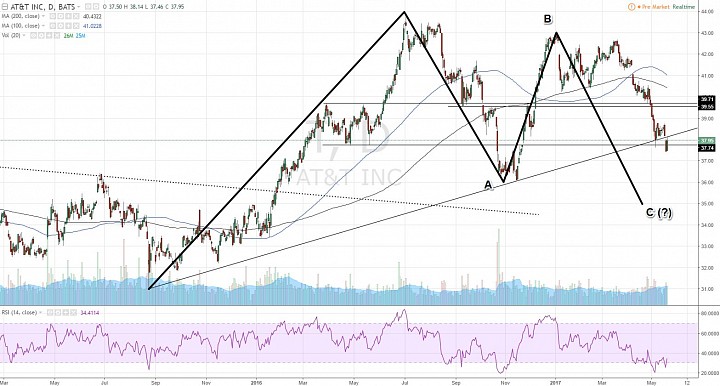 (click to enlarge)

Breakout:
- We can see that there were a few support factors around 38.00. 
- Price is breaking these support factors, although I would still consider T within the support area. 
- The breakout opens up the 35.00 area, which would be an ABC projection target.
Bullish Divergence:
- But wait, there is a bullish divergence and the last time we saw a bullish divergence in November, price rebounded.
- While the bearish divergence shows that bearish momentum has slowed, it is not necessarily a sign of bullish reversal.
- In fact, T might have some pullback, only to see price faded.
- For example, the 5/18 session saw a rebound, but so far price is still held under 38, and therefore still in a bearish picture. 
Look out for Bearish Reversal:
- Finally, the bullish divergence could lead to a bearish reversal signal. 
- So let's say price does push a little higher and the RSI also pulls up.
- If the next RSI high is higher, but the price high is below 38.75, then we should have more confidence for the bearish outlook.