Will CVS Confirm Price Bottom after Earnings?
CVS Health Corporation $CVS will release its Q3 Earnings report on Tuesday, Nov. 6. Looking at the daily chart below, we can see that price action has looked bullish since August. But after failing to clear above $80 a share in September, CVS retreated in October. Still, price is holding above the 200-day SMA, which is a slightly bullish sign. But let's see if this is still the case after earnings.
CVS Daily Chart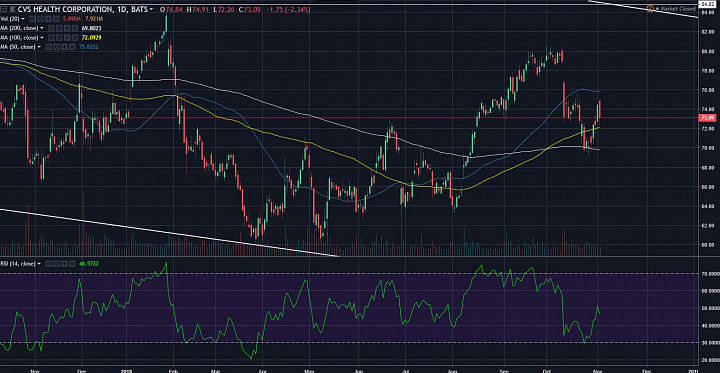 (click to enlarge)
Slingshot:
- CVS essentially completed a price bottom when price rallied in August into late September.
- Furthermore, the fact that price bounced off the 200-day simple moving average (SMA), is a bullish sign.
- However, if price closes below $70 by the end of next week, we should not rely on the price bottom scenario.
- In this scenario, we should anticipate a push back towards 2018-lows just above $60 a share.
Upside:
- A hold above $70 should keep upwards pressure first back towards $80, but also towards a common resistance in 2017 and 2018, in $84-$85 area (as we can see on the weekly chart below).
- We can also see that when price comes up to $85, it will be challenging the 200-week SMA.
- We should anticipate at least some initial resistance around $84-$85.
- A break above $85 would be interesting. This would open up a long-term bullish continuation scenario, with at least the 2015-high at $113.65 in sight.
Summary:
- Taking a step back, we should remain focused on $70 next week. A hold above this means CVS is confirming a price bottom, which would put pressure towards $80 and $84-$85.
- A break below $70 opens up the $60-$61 area.
CVS Weekly Chart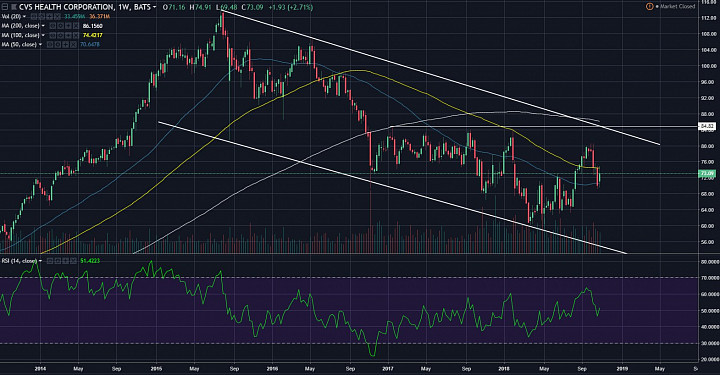 (click to enlarge)