USD/CAD - Breakout Materializes as Expected
In the previous session, we saw USD/CAD threaten to break above a falling channel. We noted that the falling channel since mid-year was essentially a pullback after a bullish breakout earlier in June.
USD/CAD - Pending Bullish Breakout
USD/CAD Daily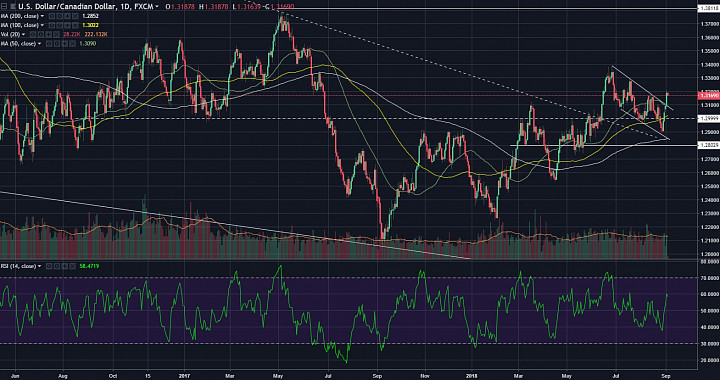 (click to enlarge)
Bulls in Charge:
- As we can see on the daily chart, after price came down to almost 1.29, USD/CAD started to surge and got to 1.32 in 4 trading sessions.
- This sharp push itself is a sign that bulls are in charge, on top of the fact that price held above the 200-day simple moving average (SMA), as well as the fact that the RSI essentially held above 40, which reflects maintenance of the bullish momentum.
- In our previous assessment, I noted a push to 1.34 before resistance. But we are already seeing price action stall at 1.32.
- Perhaps we will first get a pullback here.
- If price can start to anchor above 1.30, then we can have more confidence about the 1.34 target as well as the bullish prospect of pushing towards the 2017 high around 1.38-1.3815.