Activision Blizzard Inc (ATVI) Cracking Key Support with $40 in Sight
Activision Blizzard Inc. $ATVI is one of my favorites, but it is reeling right now after several years of persistent gains. It is seeing one of the most significant correction period, both in time and price (so far just price, but I think it will also take a while before the market drives price back up).
ATVI Daily Chart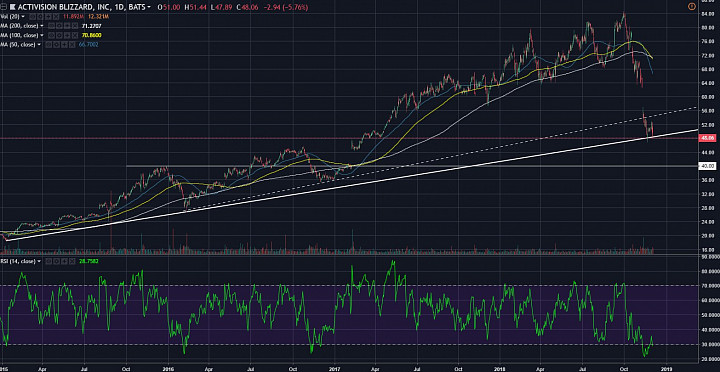 (click to enlarge)
Cracking Key Support:
- The daily chart shows that price fell sharply in November, from a previous support around $62.50 to $47.50.
- Price at $47.50 met a rising trendline and held last week.
- But after a few sessions of tentative rebound, price action appears to be more committed to the downside to end last week and start this week.
- I think there is too much bearish momentum right now to rely on the $47.50 support.
Next Support:
- As we can see on the weekly chart, price is falling sharply on top of the 200-week simple moving average (SMA) as well as a rising trendline. Price is also around the 50% Fibonacci Retracement of the multi-year bull run.
- The $47.50 area is indeed critical, but does not seem to be providing much support.
- Maybe the momentum is too sharp, along with general market risk aversion.
- Whatever the reasons, it looks like they are manifesting in the bearish price action we are still seeing as price tests the rising trendline.
- Below the trendline, the next critical level will be $40.
- Around $40, we have the 61.8% Fibonacci Retracement level.
- It is a previous resistance pivot. And we will likely see the RSI and price form a bullish divergence. These signs would at least signal a rebound towards $50.
Prepare for a Long Consolidation Period:
- In my opinion, the market will find a bottom for ATVI around $40, but price action might be sideways for a while with upside limited to $60.
- We have to brace ourselves for a period like 2009-2013. In that period, price retreated from a peak around $19 to a support around $8.00 (just above 61.8% retracement at the time).
- The reason I believe the consolidation period will be long is because the prevailing bullish trend lasted almost 5 years.
ATVI Weekly Chart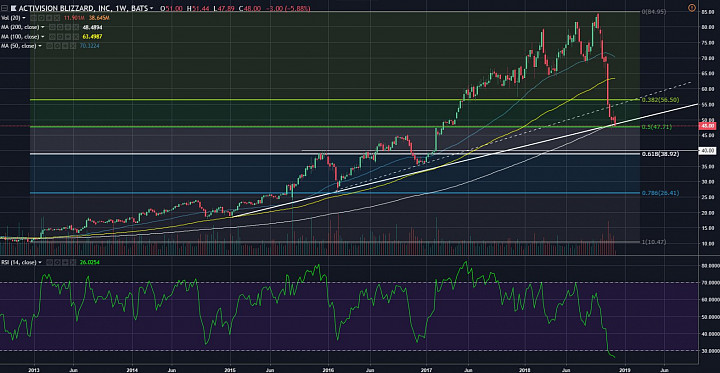 (click to enlarge)