Will S&P500 Hold Above the 200-Day Moving Average?
The S&P500 has been retreating sharply for the past couple of weeks. Fro almost 2880, it fill to about 2530 before finding support.
$SPX500 Daily Chart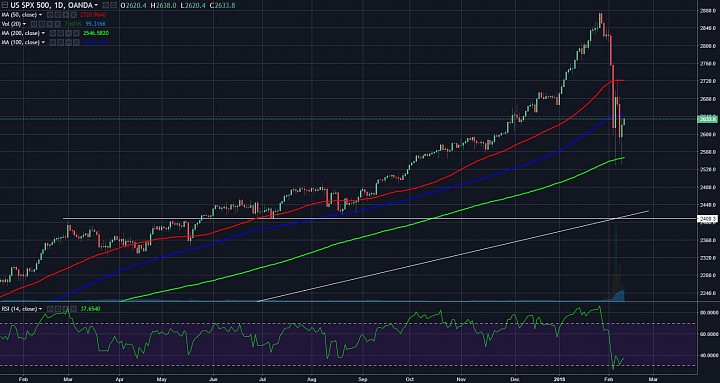 (click to enlarge)
200-day SMA:
- The daily chart shows that price found strong support at the 200-day simple moving average (SMA).
- The RSI was also below 30, which is an oversold signal.
- The thing is, even though there is support here at the 200-day SMA, the prevailing dip is still very sharp.
- A couple of bounces during the week could simply be a dead-cat-bounce.
- On the other hand, the fact that price ended the week on a good note is a welcoming sign for bulls.
- We will have to build our analysis based on last week's range, between 2530 and 2720.
- A close below 2530, or more clearly, below 2500 would be a very bearish sign.
- A close above 2720, would be a very strong bullish sign.
- If price holds within this range, we can say that the bears are taking a break. The overall trend would still be bullish, but the market would still be in consolidation.
Support:
- The weekly chart shows that the prevailing trend has been bullish.
- If price breaks below 2500, the next support could be around 2400.
- It would also be interesting if the RSI is close to 40.
- If the overall trend is still bullish in the long-term, the RSI should hold above 40, and price should probably hold above 2400.
- It might not be so much that price will dip sharply, and more likely that this will be a consolidation of significant time, like the one we had between January 2015 and August 2016, before the current bull run.
- Indeed, we might be staying at levels around 2500 for the rest of the year.
- But if price can hold above 2400 and the weekly RSI above 40, we might still have another run up like in October 2015 after price made a 3-week correction but the RSI bounced off of 40.

SPX500 Weekly Chart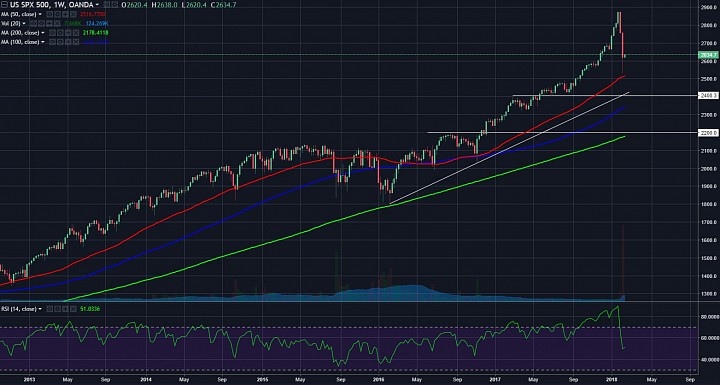 (click to enlarge)