EUR/USD - Price Bottom is Confirmed
Last week, I noted that EUR/USD was slowing down a bearish swing as it approached a critical support. I felt that something significant from the central banks (ECB and Fed) would be needed to break the support, but I also felt like we needed more clues to confirm that the market is respecting the support. We are getting that clue at the start of this week.

EUR/USD Weekly Chart 12/5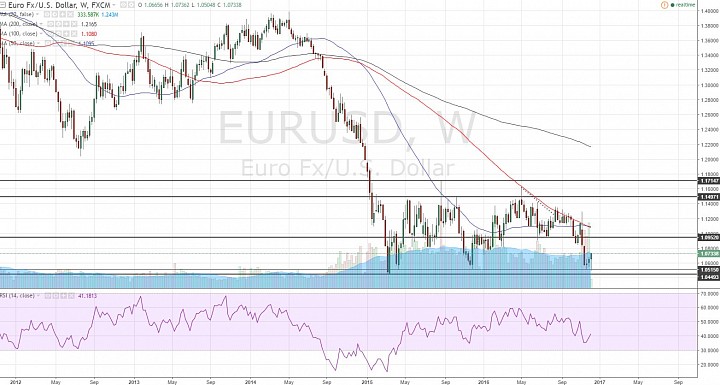 (click to enlarge)
Critical Support:
- We can see that the 1.0450-1.05 area has been support since 2015.
- It represents the consolidation of a bearish trend. 

EUR/USD 4H Chart 12/5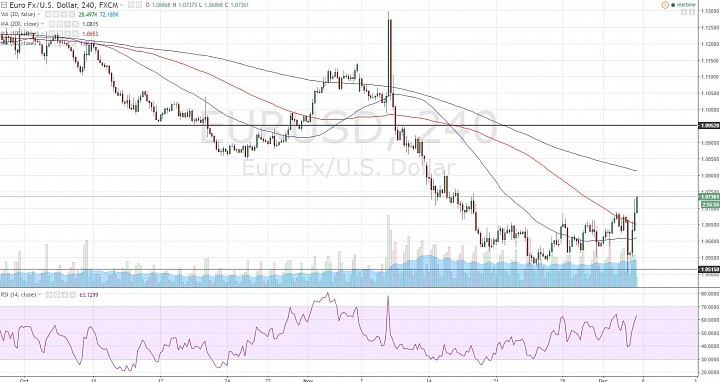 (click to enlarge)
Double Bottom and a V-Shape Reversal:
- The double bottom and V-shape Reversal signals a bullish outlook at least towards the middle of the range we saw on the weekly chart. 
- The middle of the range is around 1.0950.
- We should probably cap our bullish outlook at 1.10. 

Anticipating Pullback:
- I would anticipate a pullback and look for support around 1.0650.
- I think a market that respects the just-formed price bottom would not push below 1.06. 
- I think the reward to risk for an long entry around 1.0650 is attractive.
- The train looks like it is running fast. Be careful when hopping on an incoming train.
- Maybe we should wait until it stalls and try to buy on a dip.