Target (TGT) holding above low on the year
Last week, Target (TGT) was looking bearish ahead of the US election. We can see that price action became a bit choppy, but bears appeared to maintain control.

Then, after the election, price dipped a little lower, but held above the 2016 low at 65.50. TGT then rallied sharply from 66.00 to almost 73.00 this week. This bullish swing suggests TGT has flattened its prevailing bearish mode.  

TGT daily chart 11/16


(click to enlarge)

Bearish to Neutral:
- The daily chart shows that TGT has been bearish, but seems to be anchored above 65.50.
- The fact that price couldn't break below 65.50-66 suggests that TGT has turned neutral. 
- It might be worth considering a short-term bullish outlook.

TGT Weekly Chart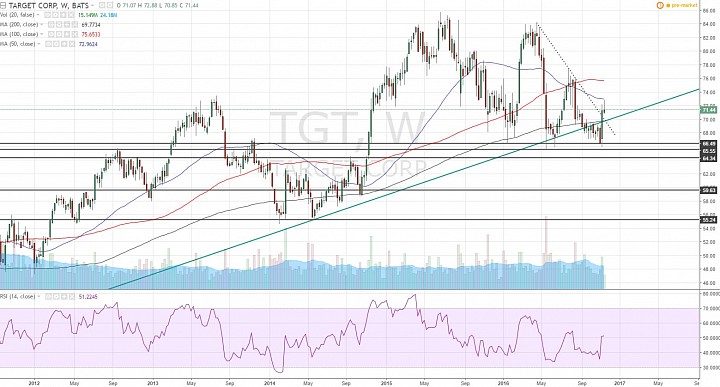 (click to enlarge)
Neutral to Bullish:
- When we look at the weekly chart, we can see that TGT has been in a large consolidation pattern for almost 2 years. 
- TGT was actually bullish heading into this 2015-2016 consolidation. 
- So, it is quite reasonable to anticipate a bullish run towards 76, or even 80. 
- Even a swing to 84 is within this neutral-bullish outlook, 

Anticipating further consolidation:
- We should probably refrain from expecting an outright bullish continuation. What if the consolidation period extends into 2017 and TGT is flat throughout the next year. In this scenario, it should not push above the 85 area and should fall back towards the 66-68 area.