Bitcoin (BTC/USD) Repeating a 2018 Pattern That was Followed by a Bearish Run
Bitcoin had a tremendous year in 2019 rallying from a low around $3400 to above $1300 before consolidating in July. Price action is apparently still in consolidation and showing a familiar pattern we have seen in 2018 - a descending triangle.
BTC/USD Daily Chart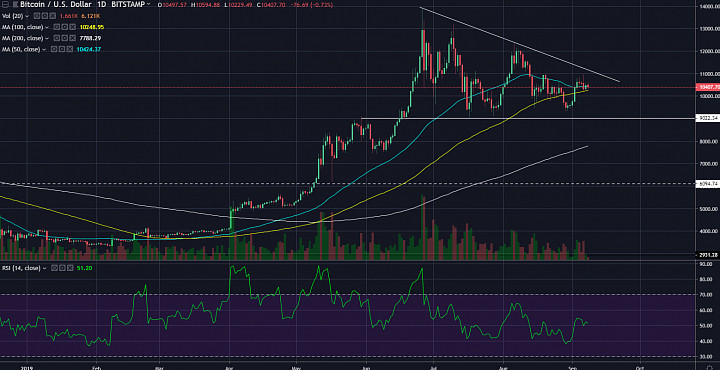 (click to enlarge)
- Price has been holding above $9000, but the resistance continues to fall. We have seen this pattern in 2018 when the support was at $6000.
BTC/USD Daily Chart - 2018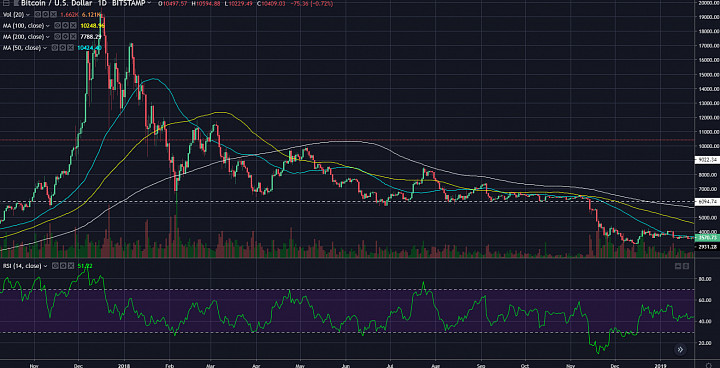 (click to enlarge)
- We can see that in 2018, price held above $6000 for months as the resistance fell persistently.
- Eventually, price broke below $6000 and extended to almost $3000.
- It is possibly a similar crowd psychology driving the triangle - as traders get nervous and pull out earlier after each bounce. The descending triangle is thus a slightly bearish pattern in this context.
- If price indeed breaks below $9000, we can expect a strong bearish move.
- The longer the price consolidates, the more likely the breakout will result in a strong move - that is unless it already flushed out all the weak hands.
- However strong the bearish move will be, I am just trying to make sure I have significant dry powder for a move down to the previous support of $6000.
- I would even prepare some more to buy if price gets to $5000, with $4500 a 50% dip from the $9000 support. After all, in 2018, a break below $6000 saw an almost 50% dip before the price bottom.