Starbucks (SBUX) Confirming a Bullish Outlook; But Market Risk Remains
Last week, we noted that if Starbucks $SBUX is to remain bullish after pushing into fresh all-time-highs, it should find support in the $59-$60 area. In fact, SBUX found support around $61, confirming that it is still bullish.
A Bullish Starbucks (SBUX) Should Find Support Around $59-$60
SBUX Daily Chart

(click to enlarge)
Bulls in Charge:
- Price came back close to $60, testing a previous resistance area.
- The market respected this area as support, and thus signals a bullish outlook.
Market Risk and Outlook in Early 2019:
- Despite the bullish signs in SBUX price action, we should note that there is strong idiosyncratic (market) risk that has nothing to do with Starbucks.
- The overall market and the overall trading environment has been bearish and now tentative at best. This is a period where we should not expect strong gains.
- This is a period where keeping cash or risk-free fixed-income (bonds) could be prudent.
- But then again, there is still a chance that some investments will do better than bonds. I believe SBUX is one of those with the potential to outperform fixed-income in a sideways equities market.
- Over the next couple of months, I would expect SBUX to consolidate, with the $66 area providing resistance and the $59-$60 area continuing to provide support.
- In case market risk takes over aggressively, we might want to allow for some elbow space towards $56.50-$57.50 (near 200-week SMA).
- Eventually, if market risk subsides in 2019, we can expect SBUX to set fresh all-time-highs before the end of the year.
SBUX Weekly Chart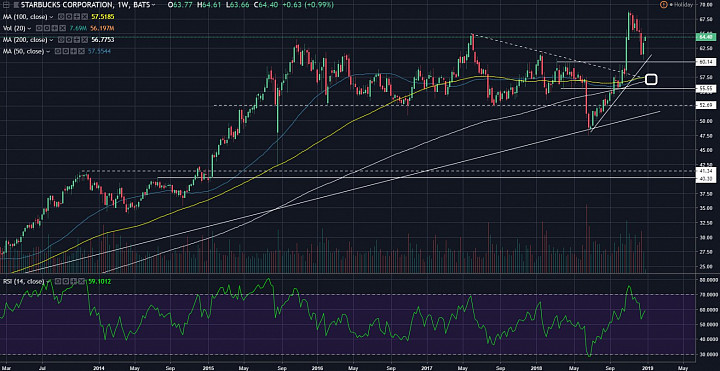 (click to enlarge)