Exxon (XOM) Might Come off a Cyclical Low
Exxon (XOM) has been in a choppy bearish "trend" since tagging $95.55 in mid-2016.
XOM Daily Chart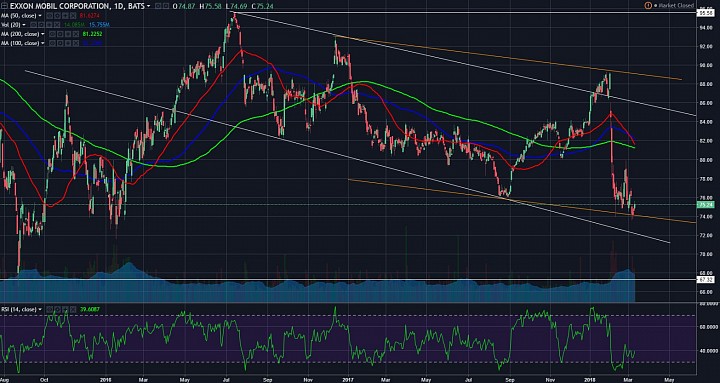 (click to enlarge)
Cyclical Low; Anticipating Bullish Swing:
- The RSI has been choppy as well.
- Since August 2017, the RSI has been traveling between 20 and 80 in a very cyclical manner.
- In February, the RSI again dipped to 20-30 area, which suggests an oversold market.
- Furthermore, we are seeing a bullish divergence between price and the RSI.
- Finally, if we look at the orange "speedlines", which are parallel, price is resting on the support.
- Now, the sum of these signals suggest some pullback possibly towards the $80.00 area, with a max outlook to $82.
- Note that I am not saying these are signs of bullish reversal. They merely suggests that if the cyclical pace of the market continues, it can see a bullish swing. But within the context of a prevailing downtrend, we should limit our upside expectation of this potential bullish swing.