Alibaba (BABA) - 2 Months of Recovery to Face Resistance; Downside Risk to $120
Alibaba $BABA has been bearish since mid-2018, falling from heights just above $210 a share down to $130 by mid-October. Since that $130 low on the year, price has stabilized and even recovered to almost $160 during the 11/28 session. I think this recovery is going to face critical resistance soon.
BABA Daily Chart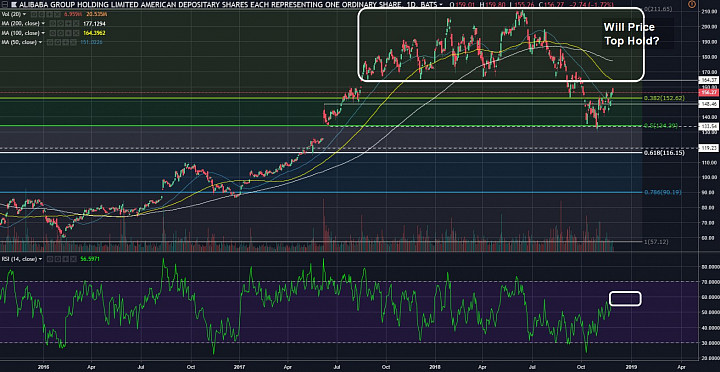 (click to enlarge)
Price Top:
- Alibaba put in a price top when it fell below $164 by September.
- Now price is heading back up to the $164 area, and we should probably anticipate resistance around this previous support.
Moving Averages:
- That $164 resistance is reinforced by the 100-day SMA.
- Also note that price has been below the cluster of 200-, 100-, and 50-day simple moving averages (SMAs) and is now essentially testing this cluster as resistance.
- A break above $180 would clear these averages and signal a bullish outlook, but for now, we should anticipate the market to respect the moving averages.
- But for now, we should respect the MAs as possible resistance.
RSI:
- Note that even before the bearish breakout, the RSI dipped to almost 30, then held under 60. This was an early sign that bearish momentum was developing.
- Now, the RSI is coming back up and we should anticipate resistance when it gets to 60 again.
Bearish Anticipation:
- The outlook above assumes that Alibaba is still in bearish correction mode. But we can't untangle market risk, so this is also an assumption that the general market is still risk averse.
- If our anticipation is correct, BABA should have further downside towards the $116-$120 area, which represents the Fibonnaci Retracement of 61.8%.
- It is also a previously critical support/resistance pivot area.
- Finally note that the 200-week SMA is around $120 at the moment.
Alibaba Weekly Chart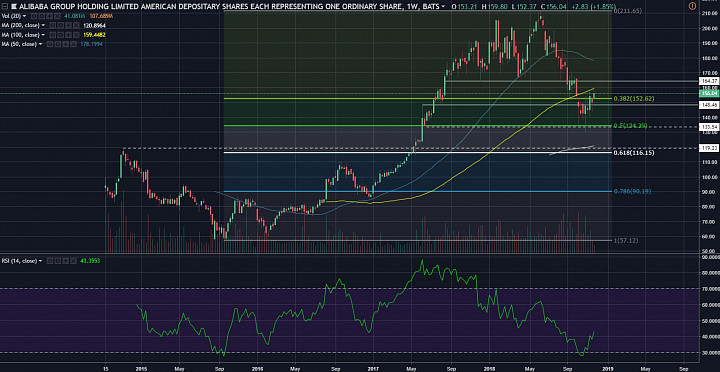 (click to enlarge)