Bitcoin Turning Bearish Again with a Breakout
Neutral Market:
Bitcoin is shifting from a sideways market in the 1H chart to a bearish one. You can tell the market is neutral as the 200-, 100-, and 50-hour simple moving averages move sideways clustered all together with price whipping them up and down. The RSI does not indicate directional momentum neither. 
Breakout:
Entering the week, bitcoin was in a consolidation range between 480 and 474. Price moved below the range during the 9/15, Monday session. After a couple of staggered steps, price is starting to respect the moving avera
ges as resistance, and thus confirming a shift towards the bearish bias. 
Bearish Outlook: The bearish bias in the very short-term has the 456.30 low from last week in sight. When we look at the 4H chart ,we can see that the prevailing mode was bearish as well. The current move is shifting bitcoin back into that mode. The SMAs are sloping down and in bearish alignment while price is holding below all of them. The RSI has held below 60 for the most part and shows that the bearish momentum is still in play.

The downside risk is therefore beyond, at least toward the 442 August low. A break below that opens up a common support at 420, then the 2014-low at 340.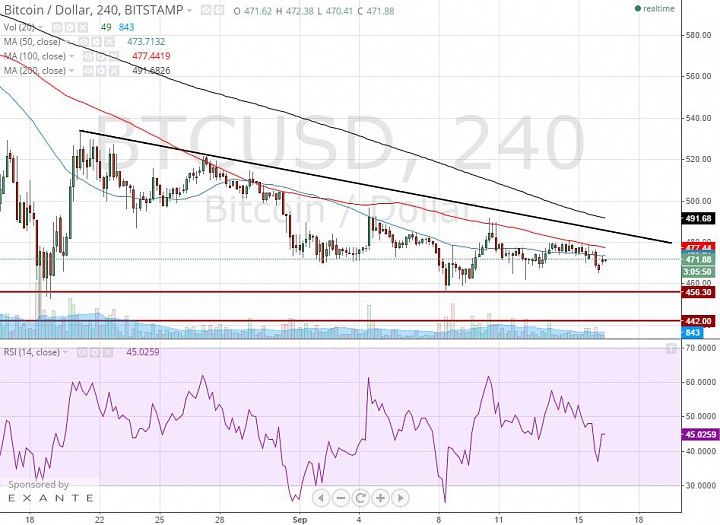 (Bitcoin 4H Chart 9/16)
Bullish Scenario: If price does not clear 456, and returns above 477, the focus will be back toward 492, and the short-term outlook would be back to neutral. A break above 492 then can liberate bitcoin from the medium-term bearish outlook, and shift it to a sideways or bullish market in the medium-term. The break above 492 would clear above the 200-period SMA in the 4H chart, a falling trendline from 534, and last week's high, which was 492.