WTI Crude Oil (USD/WTI) in a Bullish Breakout Above Key Resistance
Early last week, I suggested that it looked like WTI Crude Oil was going to continue falling in price.
WTI Crude Oil (USD/WTI) Confirming Resistance and Maintaining Bearish Outlook
While there was an initial bearish move from resistance, the dominant price action became bullish in the week to follow. This bullish action ended up in a breakout above the key resistance levels we noted last week.
USD/WTI Daily Chart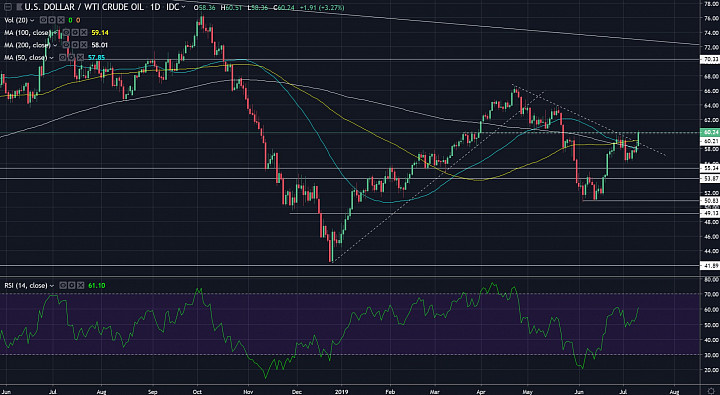 (click to enlarge)
Bullish Breakout:
- As we can see on the daily chart, price held above a key pivot area around $54-$55.
- From above this pivot, price rallied sharply during the 7/10 session, breaking above $60, a sideways support/resistance pivot, and a falling resistance, as well as clearing the cluster of moving averages.
- This makes USD/WTI no longer bearish.
- The $66 and then the $70 levels are back in sight.
- If this scenario materializes, we should also see price anchor above the $58-$60 area. So let's say price extends a little higher and retreats. I would anticipate support around $58-$60.