Gold (XAU/USD) Rallies Sharply Since Confirming a Bullish Breakout; Upside Limited to Key Resistance at $1375
We recently saw a bullish breakout in Gold $XAUUSD followed by a pullback. After the pullback, we noted that the bullish breakout was still in play.
Gold (XAU/USD) Bullish Breakout Still in Play Despite Pullback
A week later, we are seeing the bullish breakout now extend clearly above $1300 with a strong likelihood of retesting the high on the year just above $1340.
XAU/USD Daily Chart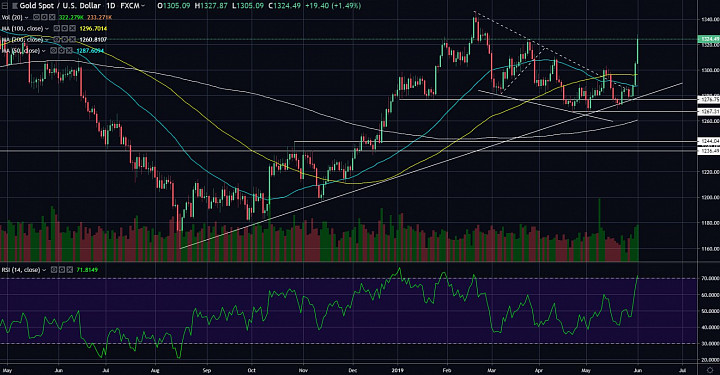 (click to enlarge)
Upside:
- While the 2019 high might provide some resistance in the short-term, the ability to reach that high suggests the potential of breaking higher, keeping in line with the prevailing trend since Q4 2018.
- Instead, the key resistance will be higher,around the $1360-$1375 area.
- On the weekly chart, we can see that this has been the key consolidation resistance since 2016.
- It will likely take a mass rotation into safe haven assets to break higher. So if gold does eventually break above $1375, we might be looking at a prolonged contraction in the equities market.
- If on the other hand we see a recovery in the stock markets, I would not bet on a bullish breakout above $1375.
- Therefore, this bullish outlook is contained in the short to medium-term (within a year).

XAU/USD Weekly Chart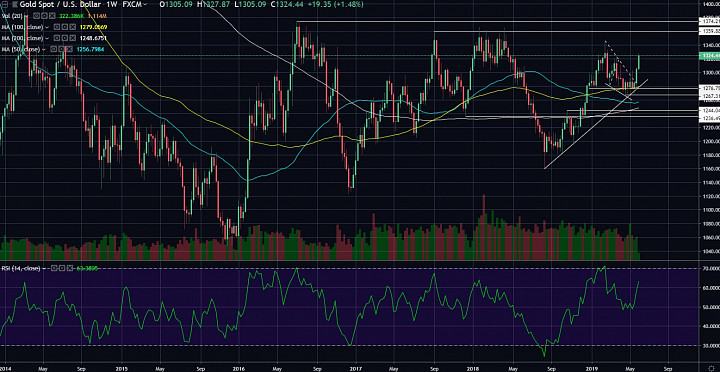 (click to enlarge)