Intel Corp (INTC) - Key Levels at a Critical Juncture
Intel Corp (INTC) has been consolidating for over a month after it rallied to about 32.70 in mid-March. 

INTC 4/20 4H Chart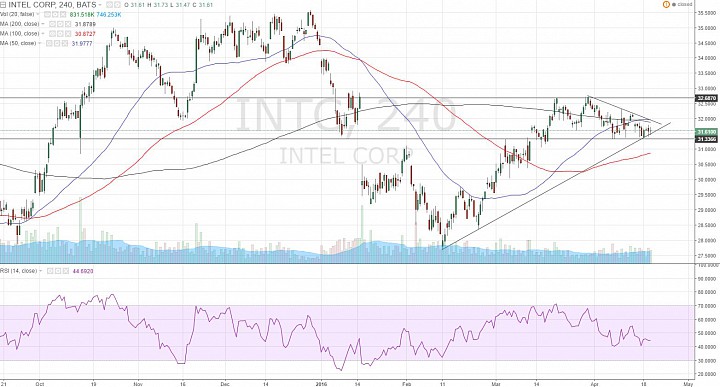 (click to enlarge)

The 4H chart shows that the consolidation initially formed a double top, but price has not been able to extend below 31.33. 

Now, price is trading under this double top but above a rising speedline. Now, if price breaks below 31.30, we might see further downside. I would still give it elbow space to 31.00, If price can hold above 31.00, bulls still have the rein. But below 31.00, we might expect a dip towards 29.50-30, with even the 27.70 low on the year in sight. 

Now, if price can clearly push back above 32.00, INTC would be above a short-term falling speedline, and back above the 50-day and 200-day simple moving averages (SMAs). In this case, we can anticipate a push towards 32.70. A break should open up the 34.00 handle ,which was common support for a December consolidation. Above that, the 35-35.50 highs will be in play. 

So, 31.30 and 32.00 could be key levels at this critical juncture. Which way will INTC break?