ZEC/BTC - A Freebie from Binance During the 4/22 Session
Look what happened with ZEC/BTC on the Binance exchange today. Basically, I anticipated the alt market to cool off a little against BTC, and was planning an entry at 0.02935 BTCs. I had a target around 0.03080 BTCs.
Price suddenly crashed down around 2:20PM EST, and within 5 minutes, price came back up above my original exit. In fact, I didn't even have time to put in the limit. After watching price action for a little, I exited around 0.031070. I still believe the market might "chew" down the tail so I took this as a freebie.
You can see this and many other trades I plan, adjust and record in my trade board. You can access April's trade boards, by subscribing to CoinPowR (with gmail) to gain access to the trade board on google sheets, or click on the link below.
https://docs.google.com/spreadsheets/d/1wV8nlYk7lH-h8t6ZjX5SmUZrGp95hudmLxo5Y_bTVfs/edit?usp=sharing
ZEC/BTC 5 minute chart (binance.com)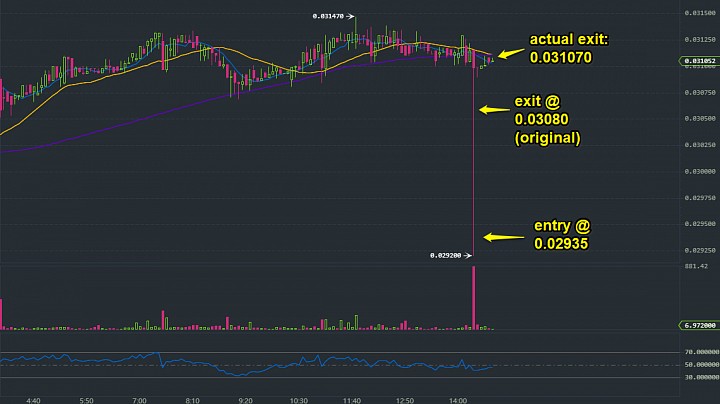 (click to enlarge)

This happened in Binance, but not on other exchanges.
I have seen a handful of these since 2017, also always on Binance. Others have seen these in EtherDelta as well.
This was essentially a free 5.86% since I locked it in. At this point, I say it is equally likely between price moving higher or back down through the tail. With 100% certainly of 5.86% if I exit, the risk-conscious choice was to exit.
From CoinPowR