Ford (F) - Earnings Beats Estimates; Price Completes Bottom
Ford $F reported Q1 earnings and it soundly beat estimates. Let's take a look at a summary from CNBC:
Here's how the company did compared with what Wall Street expected, based on average estimates compiled by Refinitiv:
Adjusted earnings per share: 44 cents vs. a forecast of 27 cents per share
Automotive segment revenue: $37.24 billion vs. a forecast of $37.08 billion
The company's total revenue was $40.34 billion during the quarter, lower than its $41.96 billion in revenue during the same quarter last year.
On an unadjusted basis, Ford's profit slid 34% from the year earlier. It earned $1.15 billion, or 29 cents a share, down from $1.74 billion, or 43 cents a share, during the same quarter last year.
While earnings did indeed beat estimates, we should note that the estimates have been tempered because Ford has struggled throughout 2018. We can see that the numbers are indeed down from the same period a year ago.
Still, the fact that the report was relatively positive should help the share price of Ford complete a price bottom, and that is exactly what the reaction to earnings did.
Ford Daily Chart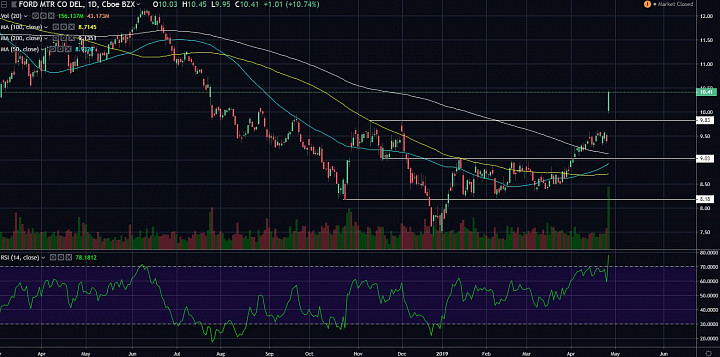 (click to enlarge)
Clean Price Bottom:
- Note that in April, price already broke above a consolidation range and hinted at a price bottom.
- Price even pushed above the cluster of moving averages and the RSI tagged 70.
- Still, price was under those key resistance levels around $9.80 to $10.00.
- The earnings reaction pushed price above these critical resistance factors and cleanly completed a price bottom.
- I think if there is a pullback, we should anticipate support above $9.50.
- A break below $9.00 on the other hand would bring back the bearish outlook.
- But for now, in 2019, I think there is a good chance F will rally to or near $12, right in the middle of a previous consolidation area, and just above the 200-week simple moving average.
Ford Weekly Chart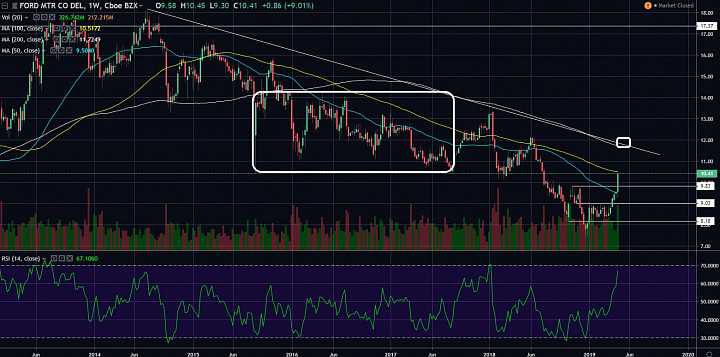 (click to enlarge)