Cisco Systems (CSCO) Pulls Back - $43 is Key Support
We saw Cisco Systems $CSCO in a bullish breakout back in August, and correctly called for a bullish continuation swing.
Cisco (CSCO) in Bullish Continuation Breakout
After that breakout, price continued higher to almost $49.50 before retreating. With the overall market sliding in the past couple of weeks, CSCO's share price also retreated sharply.
CSCO Daily Chart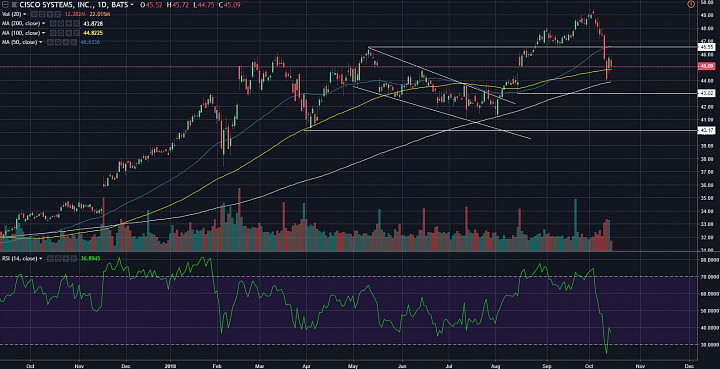 (click to enlarge)

Pullback to Key Support Area:
- On the daily chart, we can see that price extended into new highs on the year following the channel/wedge breakout in August.
- Note that the break above $46.55 essentially broke above a sideways market since March 2018.
- If we look at the range of price between 40.20 and 46.55, we would say that the central pivot is around $43. And indeed we have see price "pivot" from $43 several times.
- More importantly, if price can stay on one side of $43, it would indicate bias towards that side. For example, after the breakout in August, we saw price test $43 and bounce up immediately, followed by a strong extension of the bullish breakout.
- Taking cues form this years price action, I would say that a hold above $43 still keeps CSCO in a bullish mode in Q4 of 2018.
- So far, price has respected $43, and even $44 along with the 200-day simple moving average (SMA).
- It is probably too early to call for a bullish continuation, but if we continue to hold above $43-$44, the market will likely regain confidence for the prevailing uptrend to continue towards at least the $50 mark.