NZD/USD - Resistance Factors in Play
NZD/USD has been bearish in 2014, at least in the second half of the year. The downtrend is still in play, but we saw a bullish correction during the 1/5 global session.

NZD/USD 1H Chart 1/5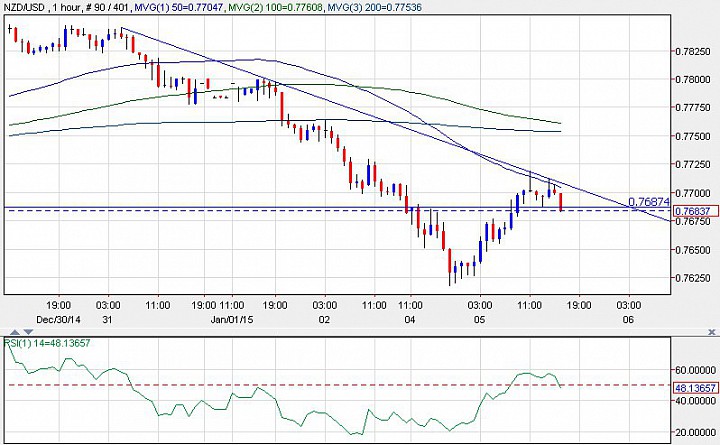 (click to enlarge)

The 1H chart shows a market that rebounded from about 0.7620 to almost 0.7720 during the first session of this week. 

Note that price action respected the 50-hour SMA, and a falling speedline from last week's high around 0.7845. 

At the end of the global session, we are seeing a bearish continuation attempt. Now, we are entering into early 1/6 Asian session, which usually provides less volatility than the European-US overlap part of the global session. Still, we should take this bearish action as a sign that bears are still in charge.

If price does not push above 0.7720 by the time the European session begins, we are likely to see a bearish continuation attempt first towards the 0.7645-0.7655 near-term support/resistance pivot area. Then in the next session or two, we should be seeing price test and possibly break below 0.7620.