Advanced Micro Devices (AMD) Cracking Resistance - Will it Continue Uptrend?
Advanced Micro Devices (AMD) has been consolidating. We last looked at AMD and noted that it was done with a bearish leg of the consolidation, and was heading back up. We noted that 13.00 was a critical resistance.

AMD Daily Chart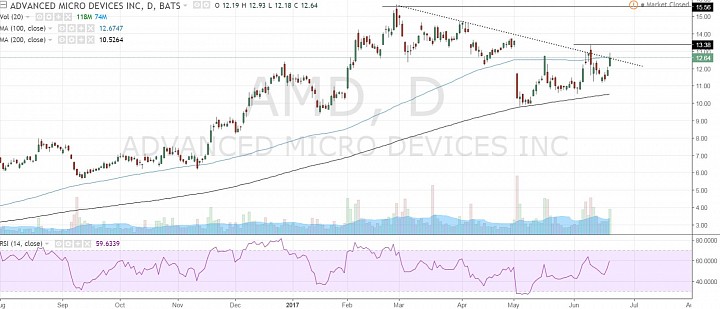 (click to enlarge)

Cracking Resistance:
- The daily chart shows that price has corrected about 35% when it fell from 15.50 to 10.
- While the bullish momentum was killed (RSI came down to 30), the overall uptrend remains intact as price held above the 200-day simple moving average.
- Furthermore, it has cracked the 13.00 resistance and a falling trendline as well as the 100-day SMA.
- Still, the break was not very convincing, but does look promising for the bullish continuation scenario.
- If price does indeed continue and extend above 13.40, we might see AMD head back to the 15.50 high.
- At this point, a failure to reach 13.40 along with a break below 12.00 would put this bullish outlook on hold and revive the downside risk towards 10 or even lower.