Dave & Buster's (PLAY) Plunges After Comparable Store Sales Slump; Share Price Approaching Critical Support Around $38
Dave & Buster's $PLAY reported very disappointing Q1 earnings prompting a more than 20% slide Wednesday.
Here's a brief summary from Zacks.com:
Dave & Buster's (PLAY) Q1 Earnings and Revenues Miss Estimates
Dave & Buster's (PLAY - Free Report) came out with quarterly earnings of $1.13 per share, missing the Zacks Consensus Estimate of $1.14 per share. This compares to earnings of $1.04 per share a year ago. These figures are adjusted for non-recurring items.
This quarterly report represents an earnings surprise of -0.88%. A quarter ago, it was expected that this owner of Dave & Buster's, a chain of restaurants and arcades would post earnings of $0.63 per share when it actually produced earnings of $0.75, delivering a surprise of 19.05%.
Over the last four quarters, the company has surpassed consensus EPS estimates three times.
...
---
Just when Dave & Buster's was looking to turn the corner with its revamping efforts i.e. new menu, VR games, its same-store sales disappointed gravely. Here's what Markets Insider reported:
Dave & Buster's crashes after reporting a slump in same store sales (PLAY)
While the insiders appear confident, external analysts are shook by the slumping sales and look at competition as a tough factor to overcome. Here's
"We delivered robust revenue and EPS growth and our new store performance remained strong, but comparable store sales were below expectations largely due to the Easter shift, which proved unfavorable this year," said CEO Brian Jenkins in a press release. "We are fully committed to executing on our four strategic priorities to strengthen the brand and remain focused on creating significant shareholder value over the long term."

During the quarter, Dave & Buster's bought back $63.5 million worth of shares .

Looking ahead, the company see full-year revenue of $1.365 billion to $1.39 billion, down slightly from $1.37 billion to $1.4 billion.
Following the results, SunTrust Robinson Humphrey downgraded the stock to "hold" and lowered its price target to $47 from $64, citing weaker than expected comparable stores sales, increased competition, and new stores sales cannibalization.
"While the timing of Easter may have had some impact (as management indicated), we believe that the largest impact was competitive intrusion," SunTrust analyst Jack Bartlett said in a research note.
Dave & Busters is down 5.07% this year.
---
Looking at the daily chart, we can see that this completely erases the 2019 rally, and puts price back towards the 2018 lows:
PLAY Daily Chart: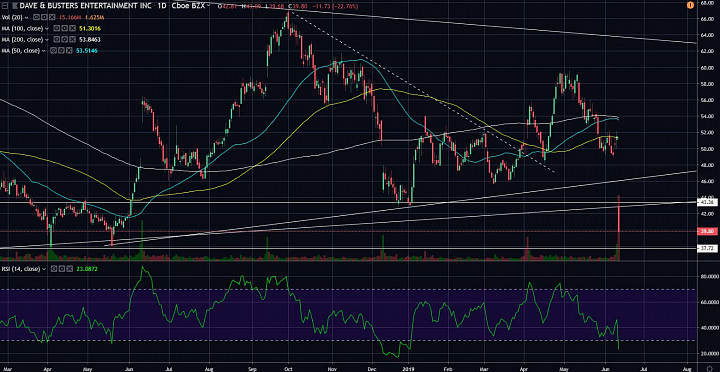 (click to enlarge)
Broken Support:
- As the daily chart shows. price plunged through several potential supports, the most important one being the $43.35 support pivot from late 2018.
- Price is now approaching the early-2018 low around $37.75., which is a key support pivot going back to 2016.
- On the weekly chart, we can see that if price breaks this support as well, we would likely see price fall towards $30-$32 before the next critical support level.
- If we do get a rebound any time soon, we should be wary of the $43-$46 area as potential resistance.
PLAY Weekly Chart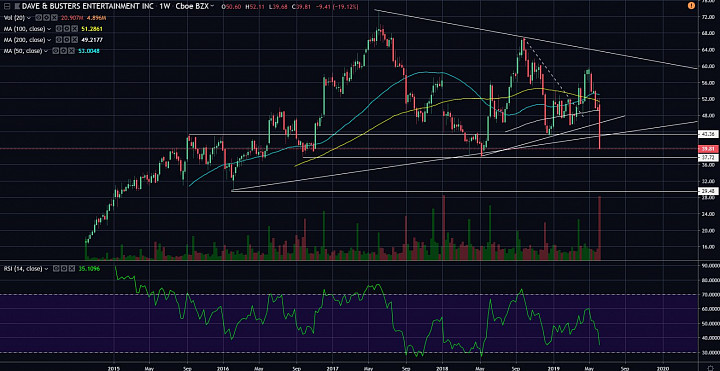 (click to enlarge)
I had noted thatif PLAY can anchor above $58-$60, it would be a more encouraging bullish sign. However price ended up holding under $60 before eventually capitulating.
Disclosure: I had entered a partial position around $50. Initially, I wanted to add to the position around 44, but the earnings report spooked me. I exited most of that position at $40. Now, I won't consider buying PLAY until price is around $30.