Kingstone Companies Inc. (KINS) Approaching Key Support After Deep Plunge
Kingstone Companies $KINS had quite a roller coaster ride in the past couple of years and we are seeing sharp plunge part of that ride. Let's take a look at the weekly chart.
KINS Weekly Chart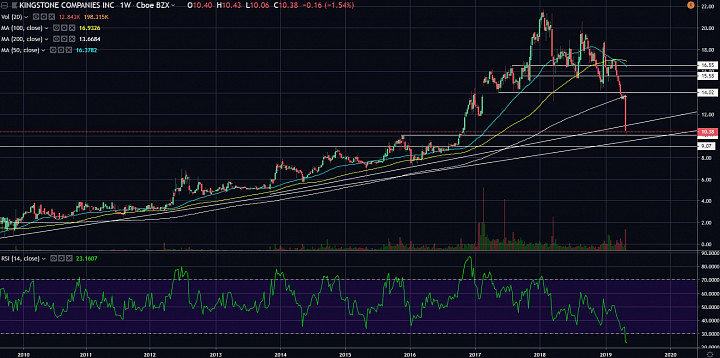 (click to enlarge)
Back to 2016 (brief price history since 2008):
- On the weekly chart, we can see that price has been rallying persistently since after the Great Financial Crisis in 2007/2008.
- The rate of gains has declined as Kingstone's market cap basis grew.
- However, price accelerated at the end of 2016 giving KINS another 300% gain in a year (from around $9 to almost $22).
- But after this surge, price started to consolidate and pullback.
- After a period of volatile consolidation in 2018, price started to fall sharply in 2019.
- After April's sharp plunge, price is now near $10, back to levels now seen since 2016.
Support:
- Now, as price pulls back to $9-$10, KINS is testing a key support area.
- There is a rising trendline here, and a previous support/resistance pivot area. (The resistance at $9 goes back to 2005 as we can see on the monthly chart below).
- I think after such a strong dip, price will start to consolidate above $9.00.
- From here, we might see a rally back towards $13.50-$14, though I don't think it will make it back to this critical support/resistance pivot before dipping again in the context of a sideways consolidation.
KINS Monthly Chart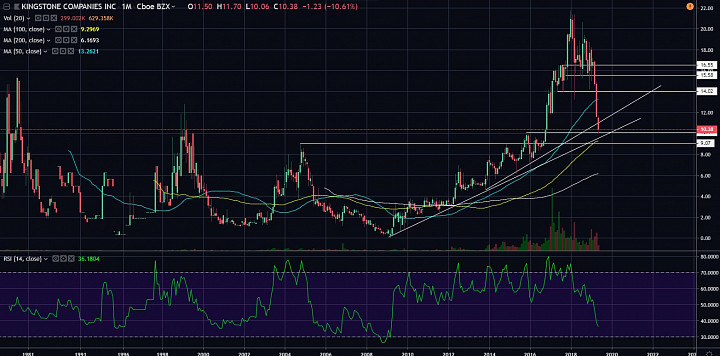 (click to enlarge)