GBP/USD Confirms Range Breakout; Opens Up 1.34-1.35
GBP/USD is on a bullish charge. It has been consolidating since October last year after a post-Brexit dip. After cracking 1.20, price started ranging from around 1.20 to around 1.2750. 

GBP/USD Daily Chart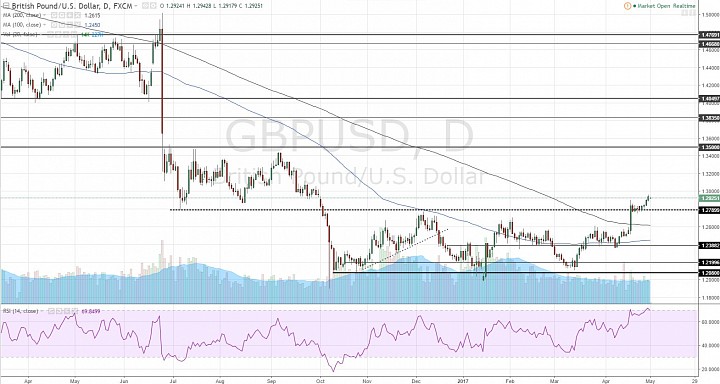 (click to enlarge)
Broken Range:
- The daily chart shows that price finally broke above the 1.2750-1.28 support/resistance pivot in April.
- But there was a few sessions where price consolidated. Last week, price pushed above this mini-consolidation.
Bullish Outlook:
- While the bullish outlook is still young, the break above 1.28 shows that GBP/USD is not that bearish and could retrace more of that post-Brexit dip. 
- The next common resistance appears to be in the 1.34-1.35 area.
- I would not be surprised if price finds resistance first around 1.30. This is a psychological price level where bulls might get scared and bears might be selling.
Even if GBP/USD then retreats to 1.26, I would still have a bullish bias, especially if the RSI holds above 40 for the most part.