AT&T Earnings Miss Pulls Share Price Back in Consolidation Range
The share price of AT&T $T has be rallying since late 2018. In April, it broke above a key consolidation resistance around $31.50-$31.80. However after consolidating under $32.50, it fell sharply during the 4/24 session, after AT&T reported its Q1 earnings.
Here's what Motley Fool reported:
"The company added wireless subscribers, grew profits in its entertainment group, saw revenue growth from WarnerMedia, and made progress paying down its debt.
But there was some bad news as well. Premium TV subscribers are walking out the door, with AT&T losing more than half a million subscribers during the quarter. And DirecTV Now lost nearly 100,000 subscribers following price hikes for the live TV streaming service.
The results
AT&T's total revenue was driven higher by the Time Warner acquisition. That business also contributed to the company's earnings growth during the quarter.
...
"
Furthermore, we learned that earnings came in with EPS of $0.86, inline with estimates, while revenue came in at $44.8 B, slightly off the $45B (off by $270 million) estimate.
It was a mixed report, but the market probably focused on the fact that AT&T lost half a million TV package subscribers while DirecTV lost 100,000 subscribers following its price hike.
AT&T Daily Chart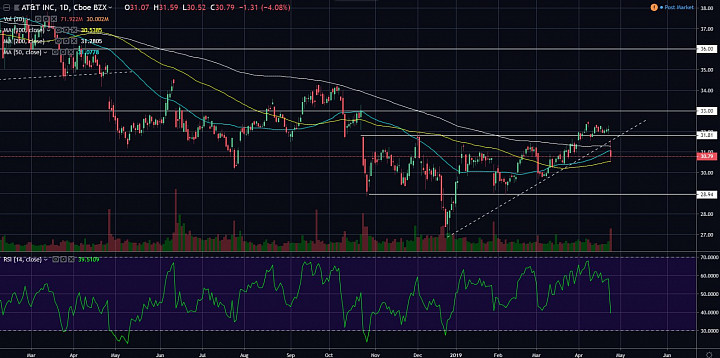 (click to enlarge)
Failed Price Bottom?
- Shares were down during the 4/24 session, as the market digested the report which came out after the close of the 4/23 session.
- Thus we saw that price gap from the open.
- What's important to note is that this dip put price back into the previous consolidation range.
- The breakout earlier in April has failed.
- If price slides below $30, it would be further confirmation that the price bottom has failed. The pressure will be on the $28.95-$29 support, with the prospect of price falling down to the 2018 low just above $27.
- Ability to climb above $31.80 would be seen as confidence for the bullish breakout that can still materialize. But at this point, I think it is more likely price will fall below $30 towards 28.90 instead. Then, if the $30-$30.50 area becomes resistance, we can be more confident of the downside towards $27-$27.50 lows.