S&P 500 Price Action Show Bias Toward Further Downside
The S&P 500 Index fell sharply at the end of August, but has been consolidating since as we can see in the 4H chart. 
SP500 4H chart 9/28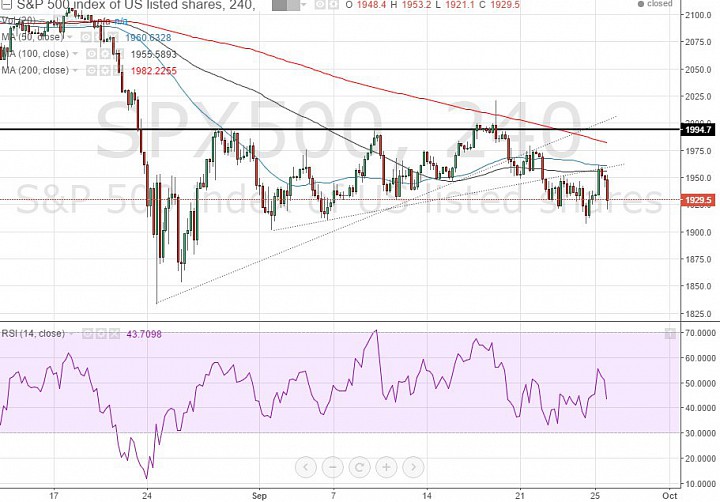 (click to enlarge)
There are a few reasons I believe there is further downside. 
1) The sharp decline towards the end of August suggests a major consolidation or correction period is at hand.
2) Price held below the 2000 level for the most part during the month-long consolidation. 
3) Price is holding under the 200-period simple moving average in the 4H chart. Last wee's price action closed with a rejection by the 100-, and 50-period SMAs. 
4) Price action has started to break below some rising speedlines within the consolidation pattern. This suggests bears are attempting to extend the late-August correction lower.
A break below 1900 would show bears winning another victory in this market, or at least push toward the lows around 1850 and lower. If price holds above 1900 and pops up above 1970, I might have to reassess my bearish outlook for the SP500 Index.

Here's an analysis from the Seeking Alpha blogs:
The S&P 500 Death Cross - Time to Panic?
I think there was already a bit of panic. But I think there is further bearish correction, like an aftershock. That is why I would first conservatively limit the bearish outlook back to 1850.