GBP/JPY in the Middle of a Critical Bearish Breakout
GBP/JPY has been bullish since late 2016, but has stalled in 2018. The daily chart below shows the rally from just under 125 to a high just above 156.
GBP/JPY Daily Chart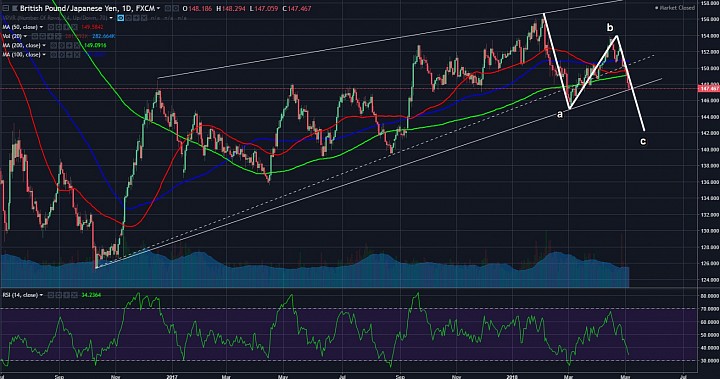 (click to enlarge)
Bearish Signs:
- Looking at the daily chart, we can see that price made a lower low around 145 in March and a lower high at 154 in April.
- This could be the start of a bearish trend, or at least an ABC correction as projected on the daily chart.
- There is a break below the 200-, 100-, and 50-day simple moving averages (SMAs), another sign that the mode is shifting.
- Finally, 148 is a key support/resistance pivot and it is now broken.

ABC vs. Bearish Mode:
- In the ABC correction scenario, we can anticipate a swing towards 142. I wouldn't be surprised if GBP/JPY fell to 140.
- The bearish outlook would strengthen if price fails to push back above 148-150, which is a key support/resistance pivot area.
- In this more bearish mode, we can anticipate a dip towards 130 and maybe even back to the 2016 low just below 125.