I Just Picked up Some Shares of Cisco (CSCO) at $52
As Cisco Systems $CSCO consolidates, I have been picking up shares first around $54 and then now around $52. I think this area above $49 will be key support for the bullish scenario.
CSCO Daily Chart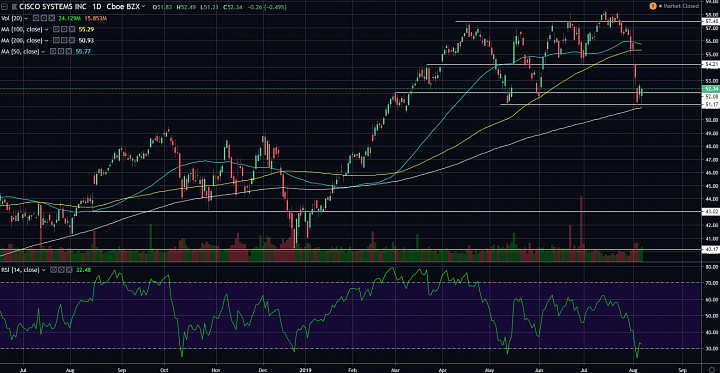 (click to enlarge)
Key Support:
- Cisco Systems has been consolidating since price came up to $57.50.
- There was a brief break to $58 in July, but price then fell sharply back into the consolidation range.
- I was anticipating a bullish scenario and scaled in some exposure at $55.
- But price kept falling.
- As a long-term bull on CSCO, I find this dip to be an opportunity to buy.
- I like this $52 area because 1) this is consolidation support, and 2) the 200-day simple moving average is right around $51.
- Furthermore, the RSI is under 30 and price has rallied the last few times when the RSI dipped below 30. However, 2 out of the last 3 times the RSI dipped below 30, price only rallied within the context of consolidation - price came to consolidation higher and retreated.
- Still, I like the prevailing uptrend so buying on a consolidation support is ideal for me.