Abercrombie and Fitch (ANF) in Classic Bearish Continuation Price Action
Earlier in July, we noted that the rally in Abercrombie and Fitch Co. $ANF was likely unsustainable and that the $20 target would be an aggressive one. Indeed, price found resistance at twice in July, and is starting August with strong bearish continuation price action.
ANF Daily Chart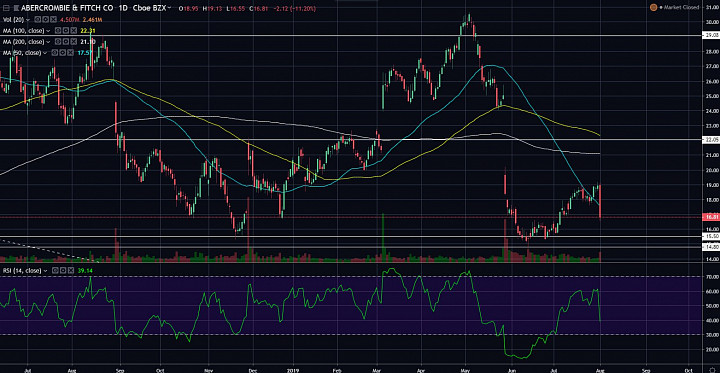 (click to enlarge)
Bears in Charge:
- There are several signs that bears are still in charge.
- First of all, price is holding under the 200-day simple moving average (SMA).
- Secondly, the RSI held under 60, reflecting maintenance of the previous bearish momentum.
- Most importantly, the strong rejection at $19 and the bearish engulfing candle during the 8/1 session suggests that bulls were and are weak.
Key Support:
- While bears are in charge, the $15-$16 area is still key a key support area.
- But at this point, if price does come down to this support area, I think ANF will break it down and open up the 2017-low around $9.00.
- I would not touch ANF until $9.00 or even lower i.e. $8. But there are many other stocks to look at - why invest in a apparel retailer that has been struggling in terms of share price for years.
- We might have a trading opportunity from $8-$9 back to $14 for example. But I wouldn't invest for the long-term and have funds tied up in such a down-beat name.
ANF Weekly Chart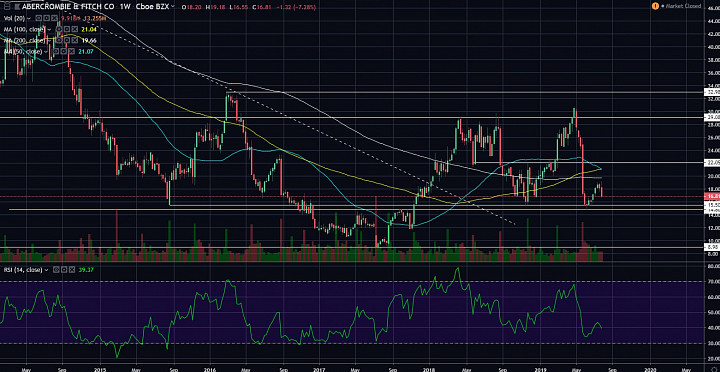 (click to enlarge)