Morgan Stanley (MS) Tests Support Factors
Bank shares have been falling across the board in March. Morgan Stanley (MS) stocks came up to 47.00 in March before sliding back to about 41.70, which was a common support and the low in 2017. 

Morgan Stanley (MS) Daily Chart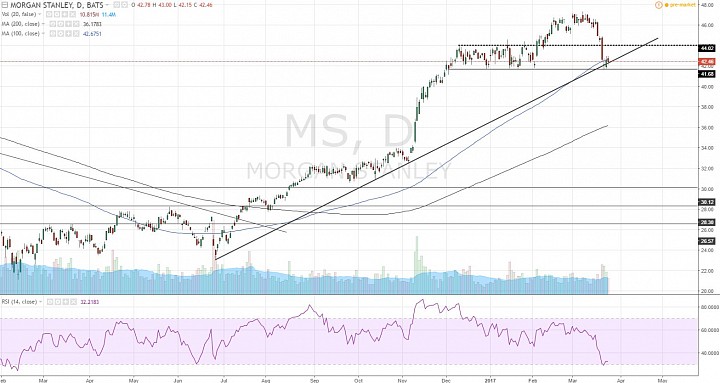 (click to enlarge)
Support Factors:
- Other than a previous common support, price met a rising trendline and the 100-day simple moving average (SMA).
- Meanwhile, the RSI has tagged 30, suggest the market might be oversold, IF the overall bullish mode is still intact.
- However, the fact that the RSI has tagged 30, also suggests a flattening of momentum.
- This means even though we should anticipate support here around 42.00, we should limit the bullish outlook this time.

Consolidation Scenario:
- In the consolidation scenario, we should limit the bullish outlook to 47.00.
- We should also anticipate resistance around 44, a previously common resistance.
- The dip was very sharp, so even though there was a prevailing uptrend, I would not want to "catch a falling knife".

Considering the Reward to Risk of Buying:
- Now, if price and the RSI shows bullish divergence, then I would consider buying with a minimal target of 44 and more aggressive target of 46. 
- I would rather price break the support levels around 41.60-70 to clear out some stops. 
- I would also rather put a stop under 40.00, a psychological level that might also provide support.
- With an average target of 45 and a stop let's say at 39, an entry at 41 will be needed for 2:1 reward to risk.