Canadian GDP Data Beats Forecasts and Manufacturing Shines
Statistics Canada (Statcan) released GDP data for the month of November. It came in at 0.4% as the manufacturing sector rebounded.. Here's an excerpt from economiccalendar.com.
Canadian GDP rose 0.4% in November, which was above consensus expectations of a 0.3% gain and the October data was revised higher to show a decline of 0.2% compared with the 0.3% contraction reported previously. This was the fifth advance in the last six months with the year-on-year growth rate at 1.6%.

The goods-producing sector expanded 0.9% following a 1.0% contraction the previous month with a rebound in the mining and energy sector, which recorded a 1.4% gain on the month to give a 3.0% annual expansion.

Manufacturing output rose 1.4% to give a 0.6% annual gain with gains in the durable and non-durable sectors, while construction output fell 1.1% over the year despite a monthly advance.

Utilities output fell 3.0%, the third successive decline due to warmer than usual weather conditions in Western Canada.

Steady growth continued in the services sector with a 0.2% gain for the month with annual expansion of 1.9%.

There was steady growth in the retail sector, while the finance and insurance sector posted a 1.5% gain following three successive monthly contractions. In contrast, there was a slight decline in wholesale trade.

There was a decline in the real-estate sector for the first time since May 2012 as the changes to lending rules introduced in October had a negative impact on the sector with reduced lending activity. There was also a decline of 2.6% in legal services as weaker lending activity had a knock-on impact. (Article from economiccalendar.com)
Here is a breakdown of the components. As we can see, the manufacturing sector not only rebounded but was a critical contributor to the stronger than expected GDP growth last November.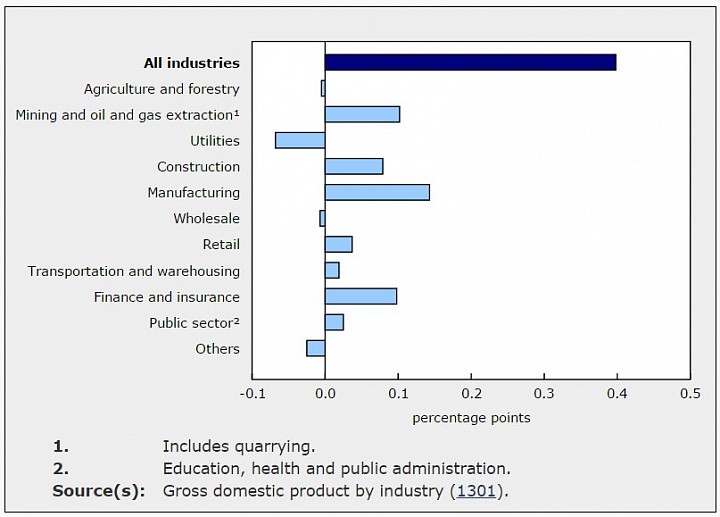 (courtesy of Statistics Canada)
We should anticipate some strength in the GDP in the short-term. But we might want to see if oil prices rally as well. If so, then we have a good reason to believe in a strong Canadian Dollar in February. Otherwise, with the loonie already gaining in 2017 so far, the GDP data might have already been priced in.