TEVA - Bullish Engulfer Suggests Upside to $27.80
TEVA Pharmaceutical $TEVA has been making a turnaround since November 2017. Since tagging $11 a share back in November, price has climbed above $24 in June 2018, and looks to extend this rally to the $27.80 pivot.
TEVA Daily Ch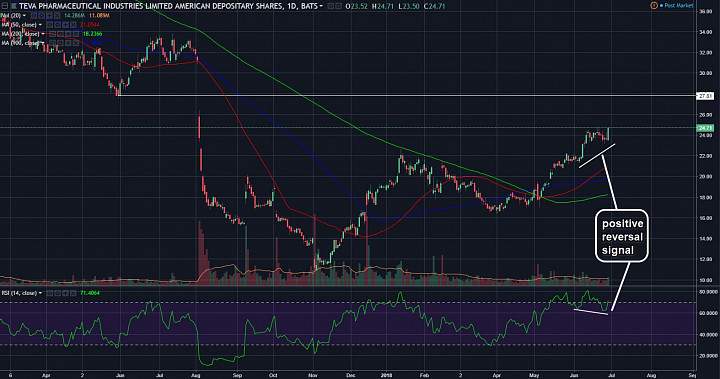 (click to enlarge)
Bull Run:
- It still too early to that TEVA has shifted into a bullish trend, but it is definitely in a strong bull run.
- Because the prevailing trend before 2018 has been bearish, we should limit the bullish outlook to the $27.80 pivot. The most aggressive outlook should probably be limited to $30 for now.
- I am anticipating more upside because the 6/28 session candle was a strong bullish engulfing candle.
- Furthermore, there is a positive reversal signal (higher price low with lower RSI low).
- These are signs that TEVA is not done with the bull run.