A Price Top is Forming for the Share Price of Ciena Corp. (CIEN)
Ciena Corp. $CIEN has been on a persistent bullish trend, even when the general market was in contraction mode in late 2018. However, I think price action has shifted from that bullish mode, and is signaling a price top.
CIEN Daily Chart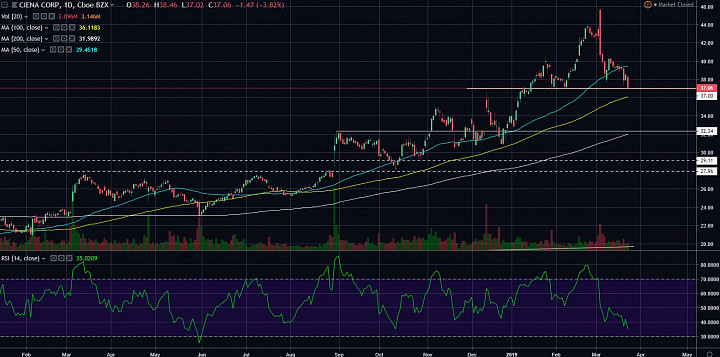 (click to enlarge)
Head and Shoulders?
- As we can see on the daily chart price action continued to rally at the end of February. In fact, you can argue that the rally has accelerated in 2019.
- We should note that this bullish push came with relatively quiet volume. This would have been a general warning that the rally was not sustainable, but the low volume does not help time the price top.
- However, the strong slide at the start of Mach was an indicator that the market may have hit at least a short to medium-term price top.
- Furthermore, the subsequent price action appears to have completed a head and shoulders, with neckline right around $37.00.
- Last week, price did NOT break the neckline. If we see price eventually break this support, I think CIEN will slide towards the $32.35 area, near the 200-day simple moving average (SMA).
- Also note that the RSI is sliding below 40, another sign that the bullish momentum is gone.
- Again, we should probably expect further price decline until price is around the 200-day SMA, and the RSI is around 30 or lower.