I Like Netflix (NFLX) Around $320 after this Correction
Last month, I was anticipating a bullish breakout in Netflix $NFLX to open up the $400 and $423 area.
I was wrong because the general market contraction in May pulled Netflix back and into a period of bearish correction.

Netflix (NFLX) - $380 Resistance Likely to Break; Price to Open up $400, $423
NFLX Daily Chart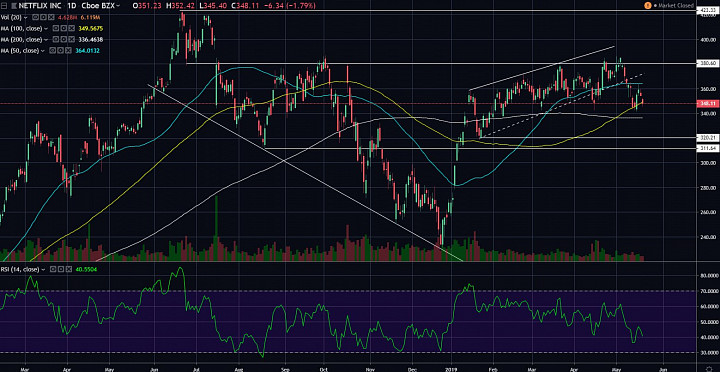 (click to enlarge)
Bearish Correction:
- As we can see on the daily chart, price is retreating sharply.
- After a couple sessions of rebound last week, price found resistance at $360, which suggests bears are in charge.
- The $340 area has been support since February, but I don't think it will hold this time.
- Instead, I think price will fall back to the $315-$320 area, which is a key support pivot area.
- I will be considering an entry here around $320, especially if there is a bullish divergence between price and the RSI.