Novavax (NVAX) Price Chart Shows Sign of Life From Historic Lows
Clinical-stage vaccine company has been bearish since it tagged atmospheric heights around $300 in 2015. In August, price tagged $4.00. After this price collapse, NVAX appears to on at least a short-term recovery phase.
NVAX Montly Chart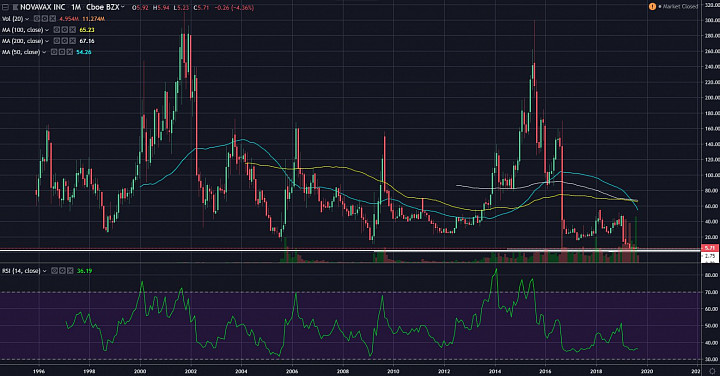 (click to enlarge)
Historic Lows:
- Historically, NVAX has found support in the $15-$20 area and sometimes just above $20.
- However, this time around, price broke below $10 and reached $4.
- After this historic low, I wouldn't be surprised that NVAX rally back towards $15-$20 area, even if its just a dead-cat-bounce.
- On the daily chart below, we can see that there was a surge in August that was accompanied by relatively strong volume.
- This rally pushed above the $7.00 resistance pivot in June and the $8.00 resistance pivot from May.
- Then, we saw a pullback, but price held above $5.00. This was a sign that bulls could be in charge at least in the short-term.
- The RSI is holding above 40 after it pushed above 70. This reflects maintenance of that August bullish momentum.
- I think we can expect a rally to $15, but I would not look for any upside above $20.
NVAX Daily Chart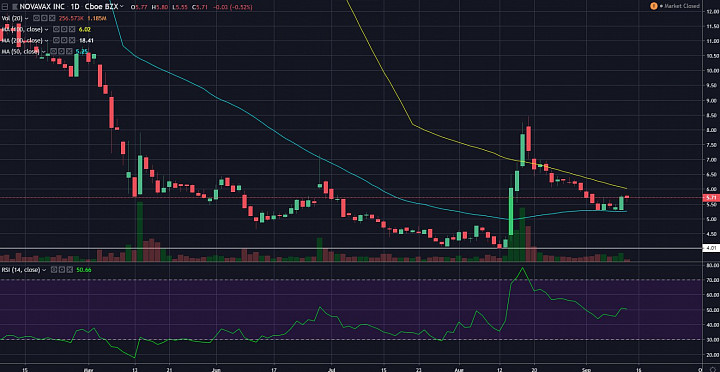 (click to enlarge)