Snap Inc. $SNAP in a Bullish Breakout But Upside Likely Limited to $14
Snap INC $SNAP has broken above a recent, almost month-long consolidation and closed at $11.84 last week (4/5). This is a long way up from the $5.00 low in late 2018. The daily chart shows the transition from a bearish trend, to a price bottom, to now a bullish trend.

SNAP Daily Chart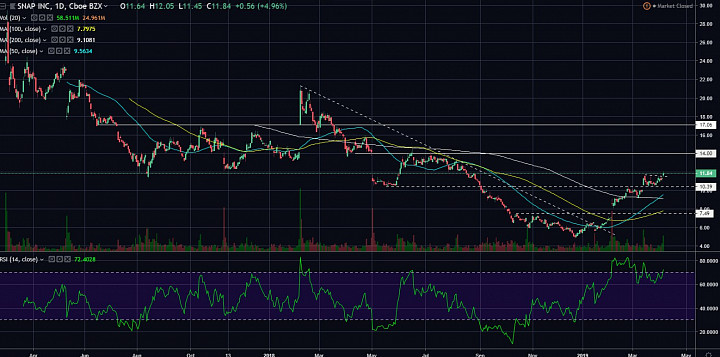 (click to enlarge)
Bullish Reversal:
- Price has started to make higher highs and higher lows.
- It also has cleared above the cluster of 200-, 100-, and 50-day simple moving averages (SMAs), which can reflect a bullish reversal.
- Last week's breakout into a new 2019-high suggests the current bullish swing is still intact.
Bearish Prevailing Trend:
- The thing is, SNAP is rallying against a prevailing bearish trend.
- The fierce competition from Instagram has put a lid on market expectations of SNAP's prospective growth.
- However, SNAP has been looking to pivot into the gaming space.

Snapchat launches Mario Party-style multiplayer games platform (Techcrunch.com)

- The market may be giving the name a chance, but I don't think this would drive SNAP into a sustainable bullish trend just yet.
- The critical support/resistance pivot at $14 will likely be a critical resistance against the current bull run.
- After that, I think we might see a consolidation between $10 and $14 going into 2020.
Earnings Ahead:
- SNAP has yet to prove that it can make money - it is still losing money every quarter, although the losses are getting smaller.
- Still, even if there is a good earnings report this month (4/23), I think the upside will be limited to $14.