AUD/USD After a Rising Support Breakout
Last week, we warned that AUD/USD was likely going to break the rising support it was testing. Indeed, this pair fell right through the support.

AUD/USD Daily Chart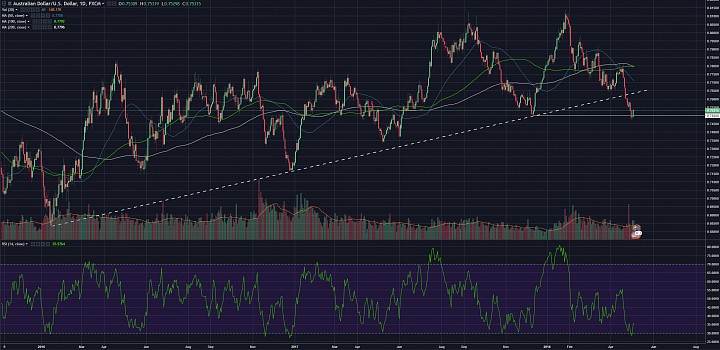 (click to enlarge)
Bearish Breakout:
- The daily chart shows that price indeed broke sharply below the rising trendline support seen on the daily chart.
- It looks like price has gone from bullish to flat.
- If "flat" is the scenario, the 0.75 support area can hold.
- BUT, if price rallies and can't climb back above 0.7650, we should turn more bearish. That means, if price falls back to 0.75, we should not rely on it as support.
- Below 0.75, price might fall to 0.72, or the 0.7145 support pivot.
- A break above 0.78 would be needed to put AUD/USD back to a neutral to bullish outlook that would pressure the 2017-2018 highs around the 0.8120 area.