GBP/USD Breaks Above Consolidation Range
In 2016, the GBP/USD was mostly bearish, extending a trend since mid-2014 when price came up to 1.7167. The bearish trend extended after the June Brexit vote. GBP/USD eventually touched a low of 1.1905 in October 2016. It has since been consolidation in a range, and is now breaking above that range.

GBP/USD Daily Chart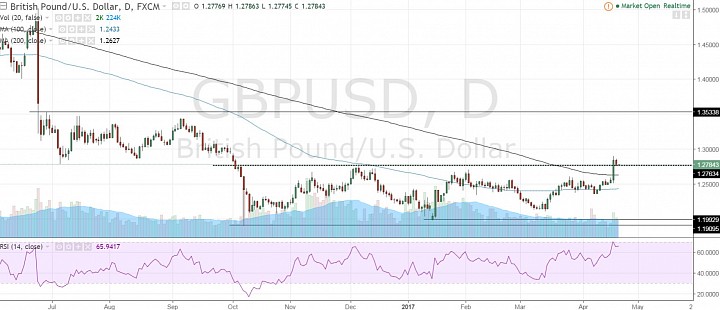 (click to enlarge)

Breakouts:
- As we can see on the daily chart, price is breaking above the consolidation range resistance, which is also a support/resistance pivot at 1.2765. 
- There are also a couple other "breakouts"
1) Price has now broken above both the 100-day and 200-day simple moving averages (SMAs). 
2) Also, the RSI has tagged 70 for the first time since 2014. Although, if we look at that instance, price reversed back into the downtrend afterwards.

Upside and Downside Risks:
- First of all, the bullish breakout does suggest a possible bullish correction in GBP/USD at least in the short to medium-term. 
- In this scenario, we should anticipate a push towards 1.35-1.3530, the resistance area of the previous consolidation range. 
- If price action pulls back down but finds support in the 1.25-1.26 area and springs back up, the bullish outlook would become more likely.
- A break below 1.24 would be strong evidence of a bearish continuation. In this scenario, even the 1.19 area might not hold as support outside of a short-term bounce.
- I personally like the chance of a bullish push towards 1.35, but I think the market is still in a consolidation mode, so I think it would be wise to limit our bullish outlook to this 1.35 area in 2017.