Toyota Motors (TM) Might See a Rally Soon
Toyota Motors $TM was bearish for the first half of the year, but turned bullish in the second half. From the daily chart below, we can see that the bullish part has been stronger, pushing price to a high on the year around 128. Then it started to consolidate.

TM Daily Chart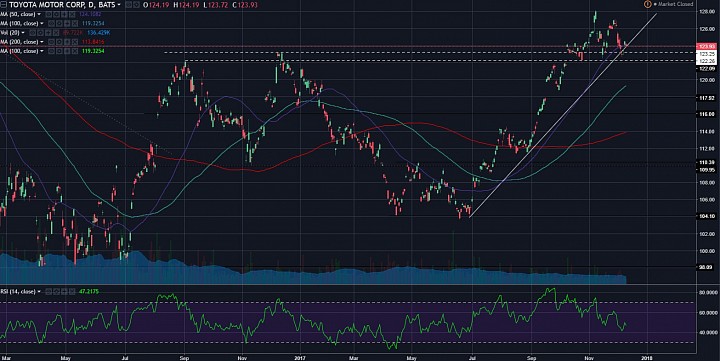 (click to enlarge)
Consolidating After Breakout:
- The daily chart shows that price has been consolidating since it broke above a previous common resistance around 122.25-123.25.
- Note that price was testing this previous resistance and the market has been treating this area as support.
- Also note that the market can see a rising trendline here.
- Finally, the RSI tagged 40, but remains above it, reflecting maintenance of the bullish momentum since July.
- If TM remains bullish, we should see a bullish swing soon to test 128 and possibly push to 130 and eventually back to the 2015 high around 146.60.
- If price breaks below 120 on the other hand, we should anticipate at least a short period of further bearish correction with downside towards 110.