Tesla (TSLA) Finds Relief at $178 Support, Rebound Likely a Dead-Cat-Bounce
Tesla $TSLA has been unraveling but we suggested it will find support around $178.
Tesla Inc. (TSLA) Tags $200 after Sharp Slide; $178 is Key Support For Now
Since that last assessment, price indeed fell further and tagged the $178 area to start this week on Monday 6/3. Then, as we can see on the daily chart below, price rebounded relatively sharply during the 6/4 session, confirming the support around $178.
TSLA Daily Chart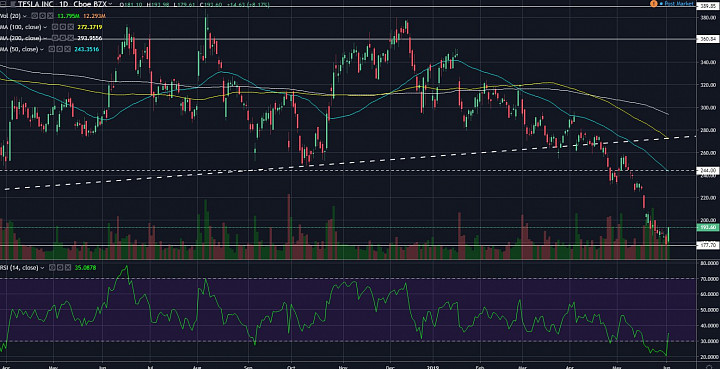 (click to enlarge)
Strong Bounce:
- As price landed on the $178 support area, which we can see more clearly on the weekly chart below, we can see it rebound sharply back above $193.
- However, I don't think this will last. The $200 psychological level will be the first challenge to this recovery attempt.
- If price moves back above $200, we might see a significant bounce even if the overall market has turned bearish.
- With the RSI in daily and weekly coming off oversold levels, I would not be surprised if price came back to the $240-$260 area, which represents the bottom of the prevailing price top.
- On the other hand, I think price will more likely reach $150 or even $125 before finding significant support and settle into consolidation mode.
- TSLA continues to be volatile, and even if the market becomes bearish, there could be significant upswings of 15%-25% within the downtrend.
TSLA Weekly Chart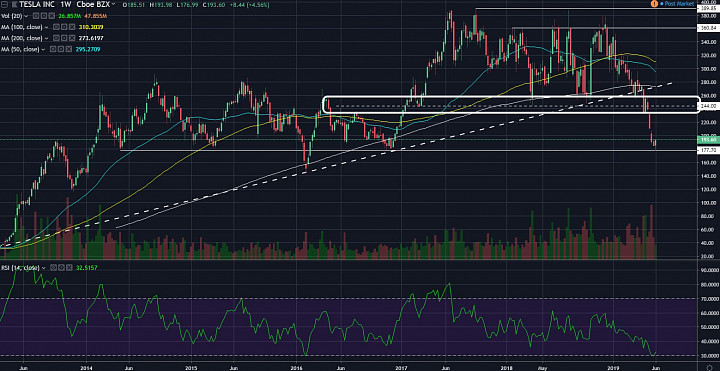 (click to enlarge)