USD/CAD looks "toppy" ahead of Non-Farm Payroll
Today's main event risk for the USD will be the Non-Farm Payroll report for August. 

Forecast: 180K
Previous: 255K

The average hourly earnings data will also be important. 

Forecast: 0.2%
Previous: 0.3%

If NFP comes in above 200K and the average hourly earnings is 0.3% instead of 0.2%, we should expect USD-strength. 

USD/CAD has been bullish since mid-August from a low of 1.2765 to a high near 1.3150 this week. It is now stalling ahead of the NFP

USD/CAD 1H Chart 9/2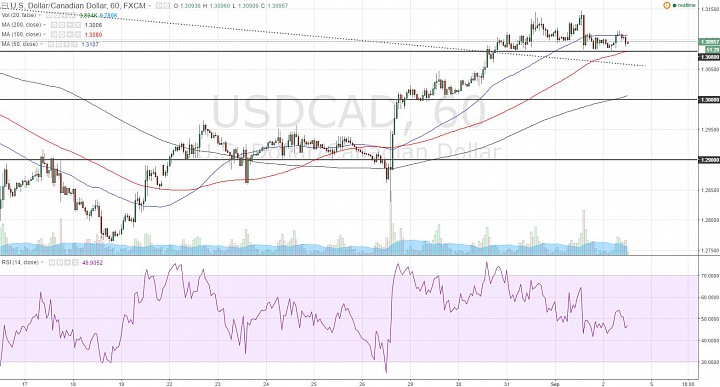 (click to enlarge)
Double top:
- The 1H chart shows USD/CAD developing a double top.
- We can also call it a rounded top and a shoulder forms on the right side of the two tops. 
- Overall price action looks like its topping, like the market is anticipating an underwhelming jobs report from the US. 
Bearish scenario:
- Price will have to clear below 1.3080 to open up the bearish outlook. The 1H RSI should also fall below 40. 
- In this case, the 1.30 handle is the near-term outlook, and the 1.29 handle could be the short-term outlook. We should probably limit the bearish outlook to 1.29 for now, considering the possibility that USD/CAD is building a bullish trend. 
Bullish scenario: 
- If price can hold above 1.3080, then a break above 1.3115 can open up a bullish continuation scenario with at least the 1.3187 pivot in site. 

I will follow up after the NFP release to assess the market's reaction.