Goldman Sachs (GS) - Next Support is Around $170
Goldman Sachs $GS has been in a bearish correction mode since price reached a high on the year of $275 by mid-March.
GS Daily Chart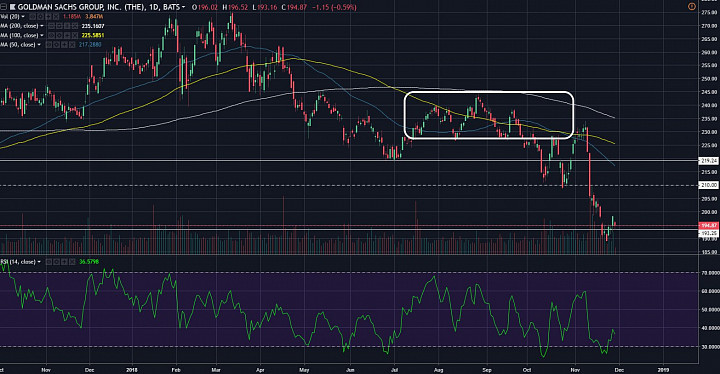 (click to enlarge)
Bearish Continuation:
- After the initial bearish correction in March through June, price started to stabilize above $220.
- But in October, price continued the bearish correction breaking below $220.
- After a pullback, price eventually failed to stay above $230, confirming the bearish breakout.
- Then we saw a sharp dip below $200 with price finding support just under $190.
- This bearish swing pushed below below the key support in the $194-$200 area, but we might still see price stick around here .
Bearish Outlook:
- At this point, if price is under $220, a push above $220 warrants reassessment of the bearish outlook.
- But if price can't even climb back above $200, the bearish outlook should materialize soon.
- The next key support under $194 will be around $170-$171.
_ the weekly chart shows that there is a key support/resistance pivot as well as a rising trendline that will help support price if it comes down to $170-$171.
- Furthermore, the RSI would likely dip to oversold levels (below 30), if price does get to $170.
GS Weekly Chart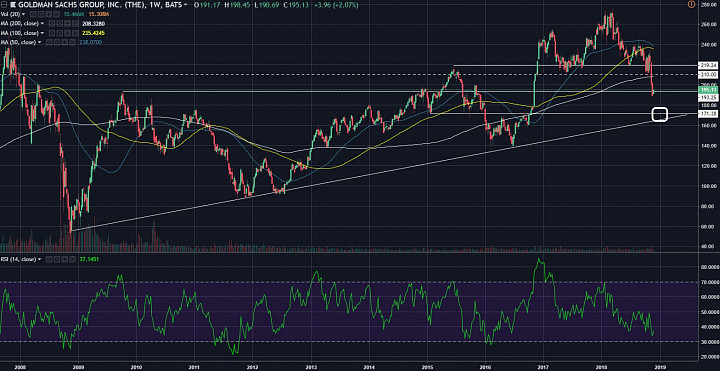 (click to enlarge)