Disney (DIS) is a buy-on-a-dip candidate
Shares of Disney (DIS) has been bearish since May when price retreated from just above 106. In October, price came down to about 90.50. The 4H chart shows a rounded bottom form from September throughout October.

In November, price broke above the neckline around 94.00. Then, after the US election, price action respected the rounded bottom and popped up. It is now showing a clear bullish breakout.

DIS 4H Chart 11/16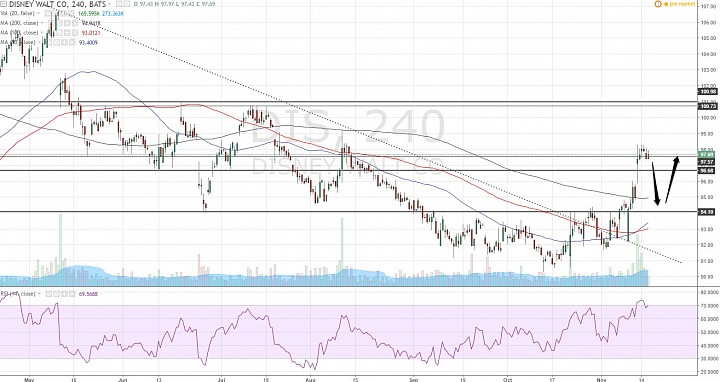 (click to enlarge)

Looking to buy on a dip:
- The market sees the bullish breakout from the recent rounded bottom and this shoudl at least open up the common resistance area around 101. 
- The high on the year just above 106 is possible as well.
- With this potential upside in mind, DIS is a buy-on-a-dip candidate. 
- If price pulls back towards 94-94.50, DIS should find support IF the market has indeed turned bullish.
- A dip below 92 would be a strong signal that bears are in charge. 
- Otherwise, if price holds above 94.00, we should consider DIS bullish with upside to 100, and possibly 106.