GAP (GPS) - Will Rising Trendline Provide Support
Gap (GPS) has been having a bad year falling from a high of almost 44 to a low now around 24.60. That's almost 44%! 

GAP Weekly Chart 12/28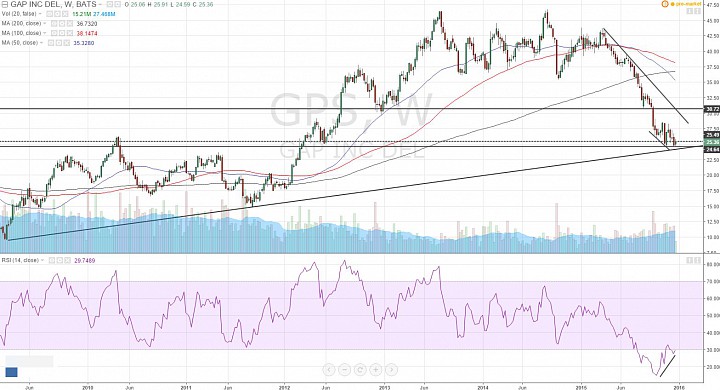 (click to enlarge)

Bearish at a Key Juncture: Price action continues to show lower highs and lows. But here's the thing. GPS is now at a critical juncture, tagging a previous support/resistance pivot area as well as a rising trendline going back to 2010. 

Possible Support: Even though we also see a bullish divergence between price and the RSI, it is difficult to say that the market will make a bullish recovery here. But, it has a strong chance to at least see some short-term support, which can build into a medium-term rally especially if stocks in general become bullish in 2016.

Bullish Targets: A conservative bullish outlook could be the 30-30.50 area, which is a previous support area. However, a more aggressive bullish outlook to the 35.50-36 area is also viable. This is the support of the year-long double top, or reverse cup-and-handle pattern. It is also in the middle of where the cluster of 50-, 100-, and 200-week simple moving averages (SMAs) reside.