General Motors (GM) - Tails Suggest Bearish Bias
General Motors (GM) has been bullish in the past few months after it tagged a low on the year at 32.00 in May. Since then, it rallied to 36.60 before retreating.

General Motors (GM) Daily Chart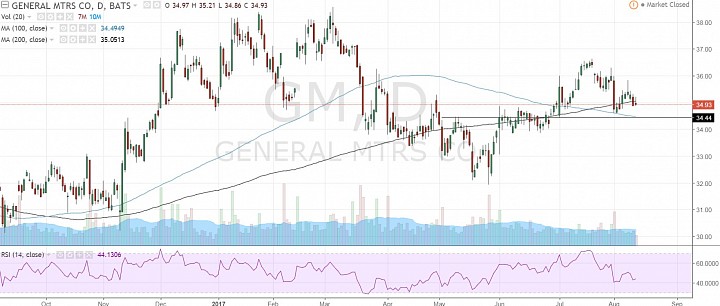 (click to enlarge)
Consolidation:
- When we look at price action in the past year, it was relatively a flat year other than the bump in November-December 2016.
- In this mode, we shouldn't really have any strong outlook and pay more attention to the pivots within this couple year's price range.
Key Pivot:
- For example, the 34.40-35 area is a key pivot. If price starts to hold above 34.40, then GM would be displaying signs of turning bullish, espcially with the RSI holding above 40 as well.1
- Otherwise, the market is sideways with a slight bearish bias in 2017. This means, there would be some short-term bearish outlook with the 32.00 2017 low in sight. The bearish bias also involves 30.00 in this bearish outlook, but we should probably limit it to this because the overall trend is not actually bearish, and at 30-32, the market might see GM as cheap.