Will Strong US Jobs Report Lift the USD/JPY?
On Friday (8/4) we the Non-Farm Payroll Jobs report showed us that the US economy added more jobs than economists expected in July.

(Reuters)
The Labor Department said on Friday that nonfarm payrolls increased by 209,000 jobs last month amid broad-based gains. June's employment gain was revised up to 231,000 from the previously reported 222,000.
Average hourly earnings increased nine cents, or 0.3 percent, in July after rising 0.2 percent in June. That was the biggest rise in five months. On a year-on-year basis, wages increased 2.5 percent for the fourth straight month.
Friday's data supports the case for two more rate hikes this year, at least one almost for sure. If so, the USD should be supported. Let's takea look at USD/JPY, which has been falling within the context of a sideways market.

USD/JPY 4H Chart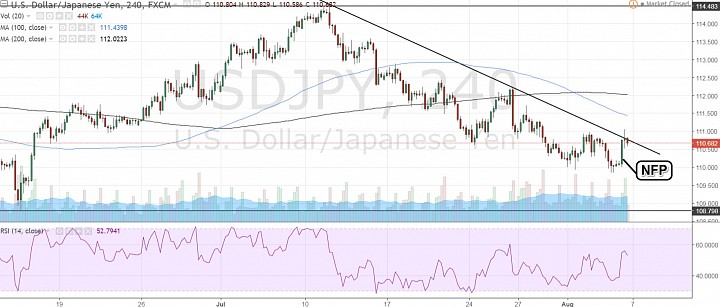 (click to enlarge)
Bullish Reaction:
- As we can see on the 4H chart, the market was bullish on USD/JPY right after the jobs report.
- However, the rally did not change the overall mode, which is bearish in the short-term and sideways in the medium-term.
- Afterall, price is still under the high on the week around 111.00 and under a falling resistance.
- Furthermore, the RSI is still under 60, which reflects maintenace of the prevailing short-term bearish momentum in July.
Last Week's Range:
- The story of last week's price action was basically this: The market edged lower in a very tentative way and covered a range between roughly 111 and 110. Then, the reaction to the NFP went from around 110 to close just under 111.
- If price closes above 111 next week, it would probably be in a bullish trend at least in the short-term, with the 114.50 high in sight.
- A break below 110 simply returns USD/JPY to the prevailing short-term down trend, but note that a key support is around 108.80.