USD/JPY - Stalking the Falling Wedge
Since the high on the year at 125.85, USD/JPY has been consolidating in what appears to be a falling wedge. 
USD/JPY 4H Chart 7/6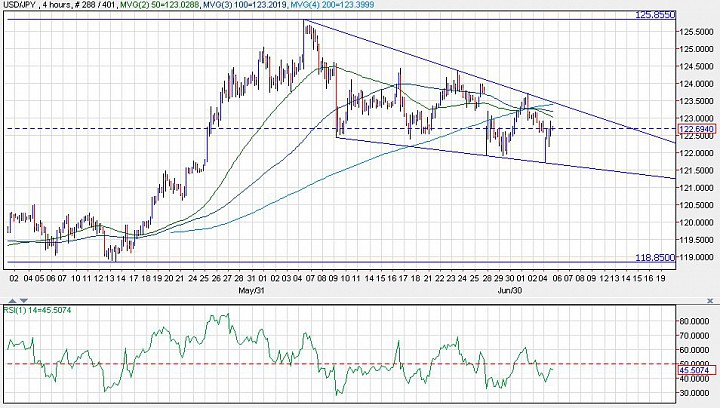 (click to enlarge)
Given the current fundamental backdrop, it is no surprise that there is a consolidation. 
1) The prospect of a Fed rate-hike has been dwindling due to a lack of supporting economic data. 
2) The Chinese stock markets have been in a decline since June. The Japanese yen is a safe haven currency that would benefit from risk aversion. 
However, the USD/JPY should still remain bullish or at least neutral-bullish. Even if the Fed does not raise rates in 2015, it is still on the other end of the spectrum compared to the BoJ's monetary policy stance. The pressure is still bullish and if the Chinese stock market stabilizes a bit, the safe-haven flow might stop and the JPY might not be as resilient as it has since June. 
From a technical perspective, we can see that there is a falling wedge so let's stalk the USD/JPY for a break from this pattern. Note, I did not say "breakout". A break of the pattern can simply be a higher low. Then, if it does follow with a higher high (above 123.75), then we would also have a breakout from the wedge. If the 4H RSI also climbs back above 60 and tags 70, we would likely be in a bullish continuation scenario, or at least one that puts the 125.85 back in sight.