Alibaba (BABA) Has $116-$120 in Sight
About a month ago, we were looking at Alibaba's $BABA bullish rebound from the $130 area. We noted that there would be critical resistance around $164.
Alibaba (BABA) - 2 Months of Recovery to Face Resistance; Downside Risk to $120

Price almost came up to $170 but retreated after failing to do so. The resistance we anticipated essentially held and the market sold BABA persistently afterwards as we can see on the daily chart.
BABA Daily Chart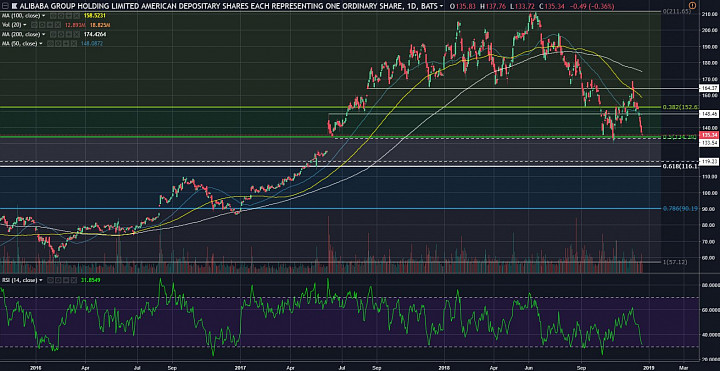 (click to enlarge)
Bearish Signs:
- We can also see that price essentially respected the cluster of moving averages as resistance, confirming that bears were in charge.
- The RSI also held under 60, which reflected maintenance of the bearish momentum since June.
- These were signs we picked up last time. Since then, price has fallen sharply and persistently, threatening to challenge the $130 low on the year.
- Maybe we get a bounce here, but I think there will be resistance around $148-$150. Resistance materializing here (around $150) would further weaken the $130 support.
Next Support:
- I think it will break lower, and extend towards $116-$120 area.
- This area involves the 61.8% retracement level, and a previous support/resistance pivot.
- Also note that the 200-week simple moving average will be right above the $120 handle.
BABA Weekly Chart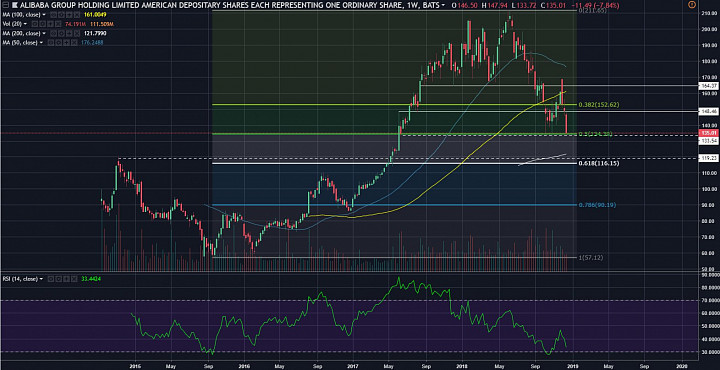 (click to enlarge)